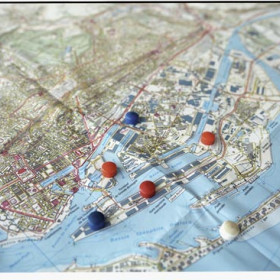 Languages Department
The general aim of the department is to educate English language and literature specialists. Added to this is a narrower objective specific to ENS Paris-Saclay: to offer training in English for specific purposes, beginning in first year.
English for specific purposes leads to a number of opportunities in teaching and research (languages for specialists of other disciplines).
Contact
Bâtiment Ouest - 1E03
4, avenue des Sciences
91190 Gif-sur-Yvette
secretariat.lang

[at]

ens-paris-saclay.fr
Tel. + 33 1 81 87 56 36
Organization
Director and English Language Testing System (IELTS) international coordinator:

CATHERINE.COLIN

[at]

ens-cachan.fr

(Catherine COLIN)

Deputy Director and Cambridge Advanced English (CAE) coordinator:

claire.lambard

[at]

ens-paris-saclay.fr

(Claire LAMBARD)

Responsible for the License L3 (MCF):

saber

[at]

ens-paris-saclay.fr

(Anthony SABER)

 
6 permanent teachers
Non-permanent members: Charlélie Fanget (ATER), Nolwenn Rousvoal (ATER) et Emily Matthews (lector).
The Languages Department is structured into three units:
Anglicist unit
The Languages Department delivers very advanced training in English language and literature. Anglicists are recruited through competitive examination or written application. Anglicists complete a comprehensive three- to four-year curriculum (literature, literary translation, American and British civilization, specialized English, linguistics, corpus linguistics, terminology, oral English) leading to a research-based master's degree.
LANSAD unit and languages centre
The Languages Department runs languages for specific purposes courses (in French, langues pour spécialistes d'autres disciplines, or LANSAD) for ENS Paris-Saclay's other academic departments.
Continuing education unit In conjunction with ENS Paris-Saclay's
Continuing Education and Development
Office, the Languages Department offers English courses designed to meet specific needs (written and oral scientific English, speaking skills for teaching a discipline in English).
Study
Bachelor of Anglophone Studies, specialized English for Specific Purposes track, in partnership with Université Paris Diderot
Master's in Foreign and Regional Languages, Literature and Culture (English specialization)for Specific Purposes), M1 and
M2 run jointly with Université Paris Diderot (M1 year in an English-speaking country)
Preparation for the external agrégation in English (culture and linguistics option), coupled with a Master of Higher Education Teaching (FESup).