Master of Film, Radio and Television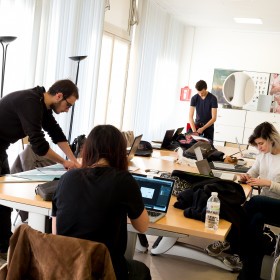 Master of Film, Radio and Television
The Master of Film, Radio and Television, Contemporary and Historical Documentaries track, entitled "Programme creation: multimedia representation of the history of science and of society", was established in 2011.

Learning objectives
The aim of the programme is to train film, television, radio and web documentary creators and directors, as well as content managers for multimedia news and publishing sites.  
The programme's focus is clearly professional; the M2 is not designed to prepare students for academic careers.
Organization
This advanced programme offers theoretical and practical courses delivered in lecture and workshop format (440 hours approx.), which may be supplemented by internships.
M2 « Documentaires de l'histoire et du contemporain »
Contact : Olivier.Wieviorka [at] ens-cachan.fr (Olivier Wieviorka) (Dept Sciences sociales)
Careers
This master's degree leads to a range of opportunities: film, radio and television documentary creators and directors, content managers for multimedia sites.