Libraries
The ENS Paris-Saclay libraries contribute to the School' teaching and research activities. A library and documentation committee meets at least once a year to advise upon library policy.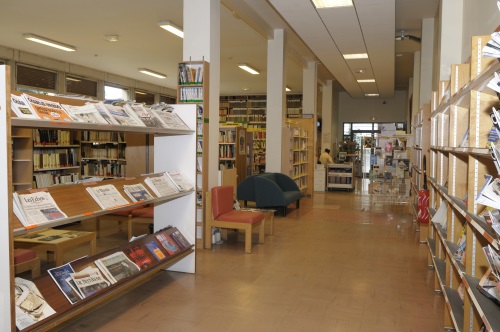 Four libraries on campus
The main library is made up of two "integrated" libraries:
•    The central library: intended to serve the needs of all students and academic staff at ENS Paris-Saclay.
•    The Durkheim library: open to all, serves first and foremost the needs of doctoral students and academic staff in the social sciences.
The library works closely with two independent laboratory libraries, know as "associated" libraries:
•    The library of the CMLA (Centre for Mathematics and their Applications)
•    The D'Alembert Institute library (multidisciplinary research federation).
Library locations
The central library is located on the lower ground floor of the D'Alembert building, in the Hall Villon.
Open from Monday to Saturday.
The Durkheim library is located in the Laplace building, third floor, at the end of the corridor.
Open from Monday to Friday.
Main Library
Monday:      10h - 22h
Tuesday:      9h - 22h
Wednesday: 9h - 22h
Thursday:     9h - 22h
Friday:          9h - 18h
Saturday:     9h - 18h
Durkheim Library
Monday:      14h00 - 17h30
Tuesday:     14h00 - 17h30
Thursday:   14h00 - 17h30
Friday:        14h00 - 17h00