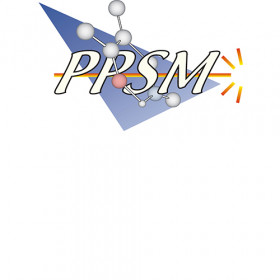 Supramolecular and Macromolecular Photophysics and Photochemistry (PPSM)
PPSM is an ENS Paris-Saclay research laboratory in basic science (chemistry).
Websites
Coordonnées
Bâtiment Nord - 4U59
4, avenue des Sciences
91190 Gif-sur-Yvette
secretariat

[at]

ppsm.ens-paris-saclay.fr
Tel. +33 (1) 81 87 56 00
Organization
Head: Fabien.MIOMANDRE [at] ppsm.ens-cachan.fr (Fabien MIOMANDRE)
The laboratory is ldivided into two research teams :
ENSEMBLE - Head:

Gilles.CLAVIER

[at]

ppsm.ens-cachan.fr

(Gilles CLAVIER)

SMALL - Head:

Isabelle.LERAY

[at]

ppsm.ens-cachan.fr

(Isabelle LERAY)
PPSM is part of Université Paris-Saclay  and participates in two LabEx research clusters: NanoSaclay LabEx and Charmmmat LabEx.
Research
PPSM's research activities focus on the study of molecules and materials that can be stimulated by light or electrons, are sensitive to the presence of ions or display biological activity.
Research areas
Photoswitching or electroswitching molecules and materials (photochromism, electrofluorochromism).
Synthesis of new compounds with specific optical properties (tetrazine, Bodipy, etc.).
Organic materials for optical information storage and microscopy
Synthesis of fluorescent and/or photochromic materials, functionalized nanoparticles with specific optical properties
Functionalization of carbonaceous materials and conducting polymers
Fluorescent probes for recognition of heavy metal ions and explosives
Synthesis of bio- and photoactive molecules
Microfluidic devices for the microanalysis or controlled synthesis of nanoparticles.