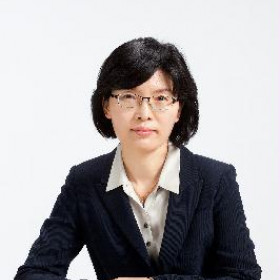 Eunkyoung Kim
2015 Honorary Doctor
Professor at the Department of Chemical and Biomolecular Engineering at Yonsei University.
After studying at Yonsei University and Seoul National University, she obtained her PhD from the University of Houston. Before taking her current position, she worked for the Korea Research Institute of Chemical Technology (KRICT) as a principal research scientist. 
She is the recipient of about 20 awards including the Woman Scientist of The Year from the Ministry of Science and Technology of Korea, the President special award from the Imaging Society of Japan, the AMOREPACIFIC Grand Award for Outstanding Women in Sciences, and the Samsung Polymer Award from the Polymer Society of Korea. She has been Underwood Distinguished Professor, Yonsei University, since 2013.
Professor Kim's achievements are of prime importance in the world of organic electronics and have a considerable impact. 
More precisely, her research activities deal with the design and the synthesis of functional organic molecules and polymeric materials, and particularly featuring light emission and reversible property changes upon an electric or light trigger. 
Also, Professor Kim is working on their integration in devices such as thin film on-off switches, flexible biosensors and detectors, organic circuitry, and human-friendly displays and patterns.