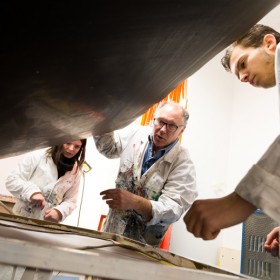 Design Department
Guided by ENS Paris-Saclay's overall mission, the department offers several different design programmes for students admitted through the entrance examination.
Normalien students having competed at least their M1 may be admitted to the second year of the master's in design (M2) through written application and interview.
Contact
Bâtiment Cournot
61, Avenue du Président Wilson
94235 Cachan Cedex
annick.vendeuil

[at]

ens-paris-saclay.fr
Tel. + 33 1 47 40 23 00
Fax. + 33 1 47 40 24 38
Organization
Director : FELIX.BULCOURT [at] ens-cachan.fr (Félix Bulcourt)
Study
The programmes on offer follow the bachelor's - master's - doctorate structure and have students working toward two main goals: the agrégation in Art, applied arts option, and development of a research project.
Courses in the Design Department fit into three categories:
those run solely by ENS Cachan for the agrégation in applied arts or Master of Higher Education Teaching, and the M2 Design;
those for the DSAA held at the design schools to which our ENS Cachan design students normally also applied in view of completing a two-year programme,
those run by Université Paris 1 as part of the Bachelor of Applied Arts, for students who are after a more theoretical than practical education and have enrolled themselves at this university.