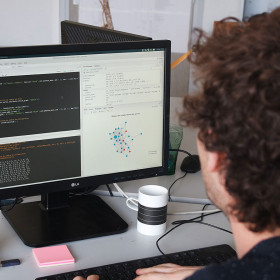 Social Sciences Department
The department offers advanced academic programmes for students intending to pursue careers in basic or applied research, higher education (including preparatory classes for grandes écoles), or in the civil service, local authorities, or private sector.
Contact
Bâtiment Cournot, 4e étage
61, Avenue du Président Wilson
94235 Cachan Cedex
secretariat

[at]

sociens.ens-paris-saclay.fr
Tel. + 33 1 47 40 21 42
Organization
Director : frederic.lebaron [at] ens-cachan.fr (Frédéric LEBARON)
The department carries out its mission with support from our academic staff, the three social science research centers from CNRS present on campus (IDHES, ISP and CES – over thirty academics and researchers and about forty Ph.D students and post-doctoral fellows) and our university partners (Université Paris 1, Université Paris 4, EHESS and ENS).
Degree programmes
The ENS Paris-Saclay Social Sciences Department offers students a research-led education in three disciplines – economics, sociology and history – which universities commonly dissociate.
The study path for normalien students in the Social Sciences Department consists of three stages:
Research
The social sciences research cluster at ENS Paris-Saclay is based on cooperation between various disciplines and on international comparative perspectives.