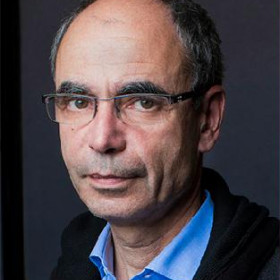 Eugène Colas Prize - Académie française
Olivier Wieviorka
2014 Eugène Colas Prize from the Académie française
Member of the Institut Universitaire de France and professor at ENS Cachan (Social Sciences Department)
On 4 December 2014, the Académie française awarded the Eugène Colas Prize to Olivier Wieviorka from ENS Cachan for his Histoire de la Résistance, 1940-1945.
In this book, Prof. Wieviorka retraces the history of the Army of Shadows from its beginnings to the Liberation.
He "embraces the entire subject, from the formation of the first networks to the Resistance's exact role in the Liberation. He dissects the various organizations, recounts and analyzes the conflicts and men, and takes stock of the many mysteries and controversies that have persisted since 1945." 
Prof. Wieviorka, a member of the Institut Universitaire de France and professor in the social sciences department at ENS Cachan and at ISP, is a renowned historian of the Second World War.
Among his several books on the subject is the authoritative Normandy - The Landings to the Liberation of Paris, which is presented in a video interview on the INA.
Award from the Académie française
The Eugène Colas Prize is a one of the history and sociology prizes awarded by the Académie française and recognizes an outstanding work of history.
Since its establishment under the reign of Louis XIII, the Académie française, the first of the five academies of the Institut de France, has had the duty of standardizing and perfecting the French language. 
It also encourages good practices and currently awards about sixty literary prizes, including the Grand Prix de la Littérature and the Grand Prix de la Francophonie.