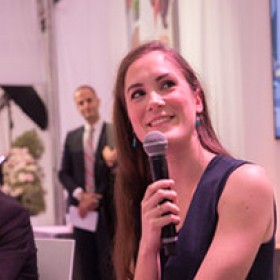 Claire Limoge Schraen
2014 L'ORÉAL-UNESCO FELLOW
Claire Limoge Schraen, a PhD student at ENS Cachan's LMT laboratory, has been awarded a 2014 L'Oréal national fellowship, part of the L'Oréal-UNESCO "For Women in Science" programme.
Claire, a PhD student in civil engineering and architecture, is writing her thesis on "Prevention of natural risks - seismic behavior and para-seismic reinforcement of stone-built monuments" under joint supervision from Frédéric Ragueneau and Cédric Giry at the Laboratory of Mechanics and Technology (LMT-ENS Cachan).
Her PhD research is also being jointly supervised by Cédric Desprez of Ifsttar and the GSA laboratory at ENSA Paris Malaquais. "Our study concerns the 200 baroque religious buildings in the valleys of Haute-Savoie, which we have identified and recorded," she explained.
"The objective is to set up a method of analyzing and processing architectural, mechanical and geographic data on a large scale based on simplified numerical models. This will make it possible to perform an initial large-scale assessment of the seismic vulnerability of historical structures by identifying and classifying patterns of damage."
Practical applications and benefits
"This information will be of particular interest to heritage professionals who are not structural engineers: local authorities wanting to know which building to focus on first, for instance, or architects who need to know whether they should consult a structural engineer for seismic risk.
"It will also help determine which buildings require more detailed studies based on structural criteria rather than on profitability.
"From this perspective, we hope to develop more precise models of the churches most at risk in critical structural areas and then test reinforcement solutions."
Research Fellowship
"I will use part of my fellowship straight away to go and work in February-March with Professor Claudio Modena from the University of Padova's ICEA laboratory in Italy. In the longer term, I would like to be able to adapt this method to other types of old buildings, such as multi-storey buildings, and other building techniques such as timber framing or brick."
L'Oréal-UNESCO Fellowship "In partnership with UNESCO, the For Women and Science programme supports women scientists from all continents at different points in their careers". The fellowship rewards scientific excellence, originality of research and the ability to pass on a passion for science, qualities that define these exceptional young women.