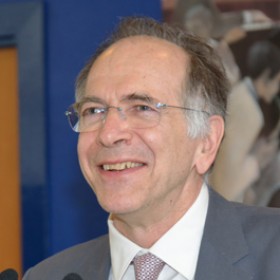 François Dautry
ENS Cachan Affiliate Professor in 2015
CNRS Emeritus Senior Researcher
On 3 April 2015, François Dautry received the title of affiliate professor at a ceremony that commenced with a seminar on "inheritance beyond genes".
François Dautry headed the molecular oncology and pharmacology team at the Laboratory of Biology and Applied Pharmacology (LBPA). He is also CNRS emeritus senior researcher, head of the Master of Cancerology and deputy director of the Paris-Sud/ENS Cachan Doctoral College for Cancerology.
Research activities
François Dautry, a leading research scientist at the national and international levels, began his career in theoretical physics. 
His current research in biology concerns three main areas: 
Biological activities of small RNA and antisense RNA,
Development of technologies for the analysis of circulating tumour cells, 
Analysis of the dormancy of tumour cells.
François Dautry is involved in a large number of research projects in which his team plays a crucial role in the field of oncology, which is central to the LBPA's main activities. 
Epigenetics lecture
In an introduction to this ceremony, a seminar on "inheritance beyond genes" will be moderated by Ms. Minoo Rassoulzadegan from the Valrose Institute of Biology.
The seminar will focus on transgenerational epigenetics (transmission of how genes are used), a topic of interest not only to biologists but to a wide audience because of the implications for the transmission of acquired traits.