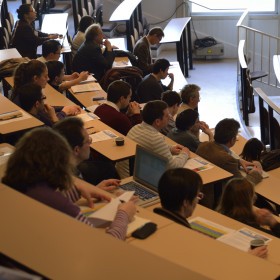 Entrance examinations
Admissions office
The Admissions Office manages the entrance examinations for admission to ENS Paris-Saclay
Missions :
The Admissions Office manages the ENS Paris-Saclay entrance examinations for students in preparatory classes for the grandes écoles (first-year entrance exam) and for students holding a Bachelor's degree or higher (second entrance exam).
Organization 
ENS Paris-Saclay offers two distinct series of entrance exams: 
the first-year entrance exams for admission after two years' of higher education in preparatory classes 
the second entrance exams for admission at Master's level.
Some entrance exams are specific to ENS Paris-Saclay, while others are common exams shared with other grandes écoles.
The office's role is to organize and administer the entrance exams, which involves:
scheduling the entrance exams in collaboration with the various national grandes écoles, for all streams.
appointment and administration of the board of examiners (authors, markers, oral examiners) 
identifying written exam centres, preparing and distributing exam papers
sending candidates notification to attend 
distributing scripts to markers and collecting written exam results
meetings of the eligibility committee
scheduling the oral exams
conducting the oral exams onsite 
final deliberations of the board of examiners 
managing offers and admission