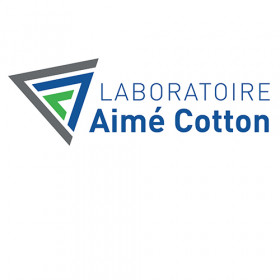 Aimé Cotton Laboratory (LAC)
The LAC is a laboratory for basic physics research at ENS Paris-Saclay.
Coordonnées
Bâtiment 505, Université Paris-Sud
Campus d'Orsay
91405 Orsay cedex
Organization
Since January 2015, the Aimé Cotton Laboratory has been run as a joint research unit by CNRS, Université Paris-Sud and ENS Paris-Saclay.
The laboratory is headed by Jean-François Roch, with Djamel Benredjem as deputy director.
Research
The laboratory has three sections:
Atoms, light & applications
Cold matter: interactions, correlations and complexity
Photons, materials and interfaces
Among its long-term research themes is the spectroscopy of ions in crystals.
This subject has been studied continuously in the laboratory in view of developing solid new laser sources and, more recently, of designing quantum memories and enabling the spectral analysis of radiofrequency signals.