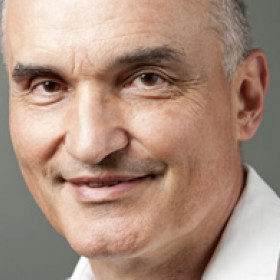 Medal of Innovation - CNRS
Jean-Michel Morel
CNRS Medal of Innovation 2015
Image analysis and processing specialist and one of the founders of the journal IPOL.
Professor of Applied Mathematics Jean-Michel Morel, from the CMLA at ENS Cachan, was awarded this prestigious medal on 10 June 2015 at CNRS in Paris.
The CNRS Medal of Innovation is awarded to individuals whose outstanding research leads to technological, therapeutic and societal innovations.
A member of the Centre for Mathematics and their Applications at ENS Cachan, Jean-Michel Morel specialises in image analysis and processing and was instrumental in founding the journal IPOL.
IPOL, image research and communication
The medal has been awarded to Jean-Michel Morel for his contribution to scientific and industrial communication on image processing, through the foundation of the journal IPOL (Image Processing on Line). 
"The journal has already published 70 articles and about 20 of what we call 'workshops'. The workshops, both private and public, make the same type of experimental interaction possible with industrial players" he explains. 
"Each article describes an innovative method, and then allows readers to try it out online with their own images. It keeps the experiments that online users agree to leave in a public archive. So far there are 140,000 of them."
As each article also provides the source code, users can download it and do their experiments offline. So this figure is only one indicator among others of the articles' circulation.  
IPOL is said to be the world's first journal to allow fully reproducible research.
Digital and abstract images
Current research by the CMLA image processing team focuses on the production and use of digital images taken by cameras and more specialist devices such as Earth observation satellites.  
"More specifically," Morel says, "I'm working on reconstructing the Earth in relief from stereo pairs of satellite images, on restoring images and videos to remove noise, blurring, and other distortions, and on the automatic analysis of images to extract information for scientific or industrial use."
He adds, "My research actively focuses on image synthesis—creating new images from examples, which has many industrial applications for creating new textures that imitate nature. 
But I would like to extend my field of investigation in order to better understand the mathematical structure of images, which is still very poorly understood, and to systematically explore techniques for creating abstract images, with applications in abstract and decorative arts in mind."
Development of image processing
The trend is to explore methods that use not just one image but a huge set of images, a kind of memory of the world, to restore or interpret new images. We have an immense field of research opening up here.