Franco-Tunisian College: first experiments proposed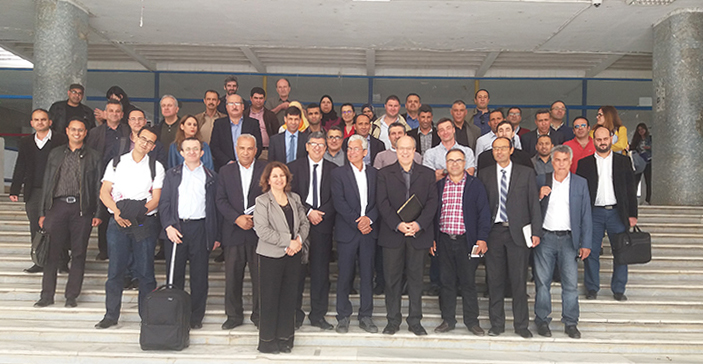 04/05/2018
The first seminar of the Franco-Tunisian College for Experimental Science was held in Tunis from 22 to 25 April. French teaching staff from ENS Paris-Saclay, CNAM, IOGS and Ecole Polytechnique travelled to Tunisia to meet their counterparts from the universities of Carthage, Tunis, Tunis El Manar and Gafsa, and to visit some of their laboratories.
During their visit, the delegation headed by ENS Paris-Saclay president Pierre-Paul Zalio and professor and project leader Mohamed Gabsi, was able to take stock of the experiments to be put in place for the study of STEM subjects (science, technology, engineering and mathematics) in Tunisia. The seminar marked the launch of the Franco-Tunisian College following the framework agreement established in February to support experimental work for students at Tunisian higher education institutions.
According to participating professors and lecturers from ENS Paris-Saclay, the seminar was a success. They enjoyed productive meetings with their Tunisian counterparts and conducted the first expert appraisal of practical work at several institutions: the National Engineering School of Tunis (University Tunis El Manar), the National Engineering School of Gafsa (University of Gafsa), Sup'Com, Tunisia Polytechnic School and the Institut Préparatoire aux études scientifiques et techniques (University of Carthage).
Over the four days, visits and meetings in disciplinary groups (electronics, mechanics, civil engineering, physics) gave the Tunisian lecturers a chance to voice their expectations and assess the difficulties they currently face in implementing practical lab work with their students.
Concrete solutions to support experimental work in Tunisia
Among the proposals made during the workshop were concrete measures for physics and engineering, such as putting lab work in place for signal processing and power electronics, looking for low-cost solutions (student lab facilities for optics and for energy transfer in mechanical systems), the purchase of modular equipment to modernize lab work, and assistance in setting up a civil engineering programme.
This first seminar is expected to lead to new experiments and practical work at the Tunisian institutions in the coming months. A review seminar will be held in 18 months. "Aside from the seminar's stated objectives, these meetings allowed us to discuss our teaching practices and education systems, which is always valuable and instructive," said François Louf, a lecturer in the Mechanical Engineering Department at ENS Paris-Saclay who attended the seminar.
Experimentation at the heart of STEM education
The goal of the Franco-Tunisian College for experimental science teaching is to give practical work its rightful place in STEM education and thereby ensure that Tunisian graduates are job-ready so as to enhance their employability.
In both France and Tunisia, abstraction tends to be favoured at the expense of experimentation. In Tunisia, this mindset is counterproductive when it comes to student employability. In our school's tradition, experimental work is considered central to the science experience and to an effective teaching approach. The Franco-Tunisian College illustrates that idea."