The future ENS Paris-Saclay takes shape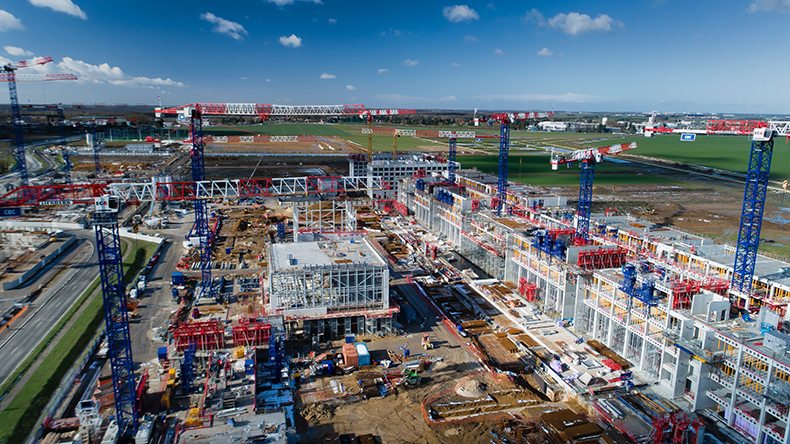 14/02/2018
Construction of the new ENS Paris-Saclay campus began in 2017. The North, South, East and West buildings that will form the rectangular campus are gradually going up alongside the Jacques Friedel Deck in the Moulon district. The buildings composed of high quality concrete, steel and glass are to be delivered in 2019.
The North building, which will have a floor area of 41,760 m2, is the most advanced. Three floors are already up. The first phase of structural work for laying the concrete shear walls and steel structure is progressing. The secondary phase involving the installation of network cables, plumbing pipes and building ventilation is also underway.
This building will house nine teaching departments and nine laboratories and institutes for science (biology, chemistry, physics, computer science and mathematics) and engineering (civil engineering, mechanical engineering, automated production, and electrical and information engineering) with all their facilities. The ground floor will be home to the event space and the civil engineering, mechanical engineering, Automated Production Research Laboratory and LMT laboratory. The science gallery will run along the first floor with large staircases providing access to all the School's departments and laboratories.

General plan of level 0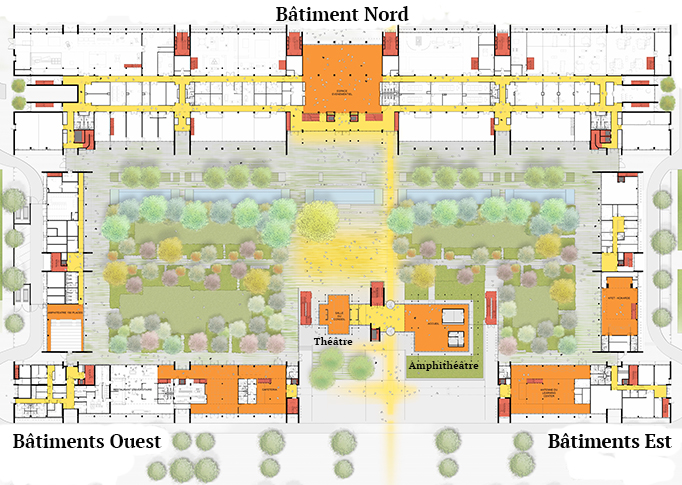 South, East and West: building progress
Progress on the other buildings is continuing in parallel. In the future garden, the main 500-seat lecture theatre and the theatre are at mid-height, their high steel structures in view. The large lecture theatre will be shared between CentraleSupelec, Université Paris-Sud and the School. The theatre will offer a multidisciplinary programme.
The future shared lecture theatre - photo Michaël Tubiana (Dec. 2017)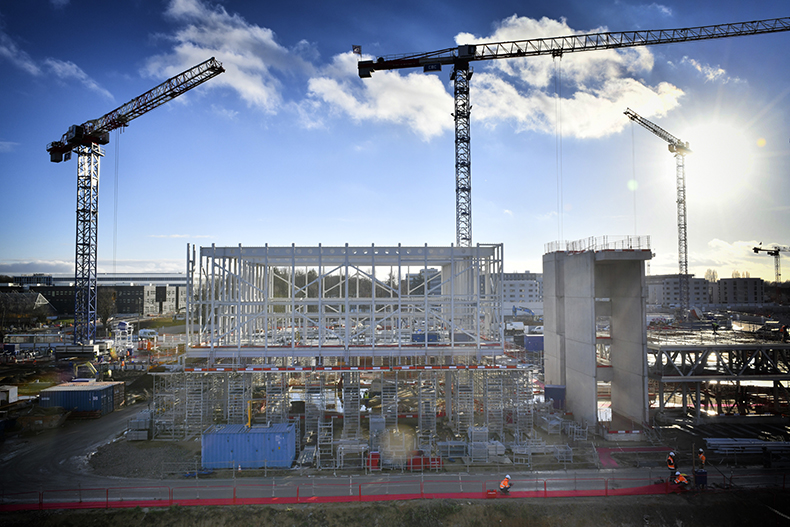 Construction of the theatre - photo Michaël Tubiana (Dec. 2017)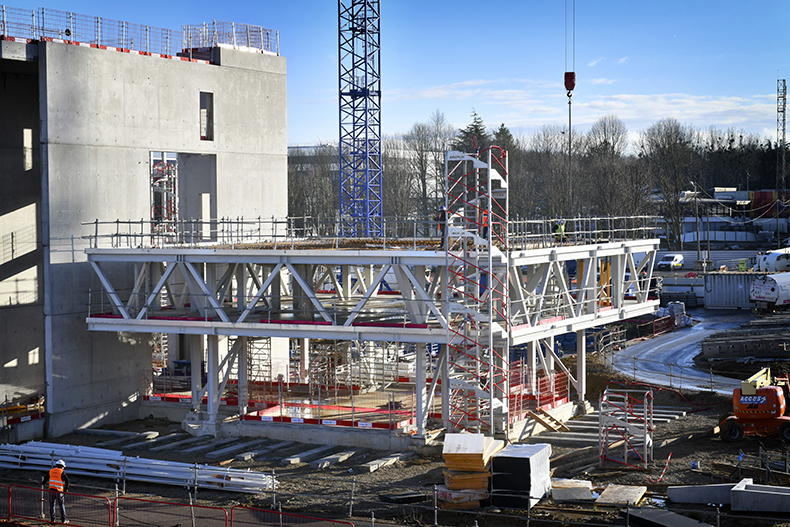 The foundations of the South East building have been laid. The ground floor will open onto the library until the Learning Centre is built. The Admissions and International Affairs offices, and the Registry and Student Affairs, Legal Services and Procurement, and Finance Divisions will occupy the upper floors. The premises dedicated to student associations will also be located in this building.
Construction of the East building is due to start in March 2018. It will be home to the Kfet-Kokarde (students' cafeteria and venue) and professional services including Estates and Facilities, Finance and Information Systems, Communications and the Office of the President.
Finally, the West buildings will accommodate the university restaurant on the ground floor and, on the upper floors, the social sciences department and laboratories, the Maison des sciences de l'homme and two 80-seat lecture theatres. Construction of these buildings will begin in March 2018.