Wireless communication at sea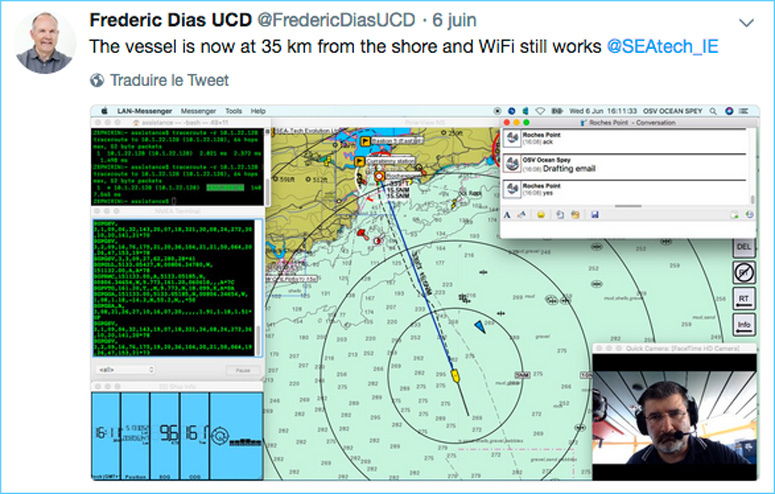 26/09/2018
On 6 June 2018, a French-Irish scientific expedition set the record for the longest Internet connection at sea without support from a satellite or cellular network.
SeaFI, an alternative approach
French engineer Arnaud Disant is the inventor of SeaFI technology.
There are currently two possibilities for data transmission at sea: satellites and cellular systems such as 3G or 4G. But 3G/4G's availability at sea is purely coincidental as cellular networks are not cost-effective outside high population areas; meanwhile, satellites were designed before the first smartphones appeared and will soon be unable to cope with demand.
SeaFi is a means to set up private networks in ports and coastal areas by establishing connection between lighthouses, maritime wind turbines, offshore drilling platforms and vessels at sea. The networks are used to connect the ships and their crews, as well as data collection buoys (weather, tides, etc.).

This technology is a modern, sustainable and cost-effective alternative. It offers new life for lighthouses, which GPS and electronic maps have rendered all but obsolete. SeaFi represents the possibility not only for the many men and women who work at sea eight to ten months of the year to maintain contact with their families during their long absences, but also to improve the collection of data for research.

Record for the longest wireless Internet connection at sea
On 6 June, the SEA-Tech-Offshore expedition set off on the Ocean Spey from Roche's Point lighthouse in County Cork, Ireland, and headed south. The lighthouse and ship were both equipped with SeaFI stations.
The scientific data recorded over the duration of the experiment showed the exact point at which the signal was lost, and the last signal established the world record for the longest ship-to-shore Internet connection without satellite or cellular support.
Twelve observers from scientific and maritime circles witnessed the expedition. Among them was ENS Paris-Saclay professor Frédéric Dias (ERC Fellowship, 2014 Prix Émilia Valori), who is currently on secondment at University College Dublin. Prof. Dias monitored the consistency of operations at the Roche's Point lighthouse and was responsible for calculating the distances between the lighthouse and the ship in real time.