Access map
To get the ENS Paris-Saclay, by the express subway (RER), you need:
   
    20 min. from the heart of Paris and the Quartier Latin
    30 to 45 min. from Orly-Airport
    60 min. from Charles de Gaulle-Airport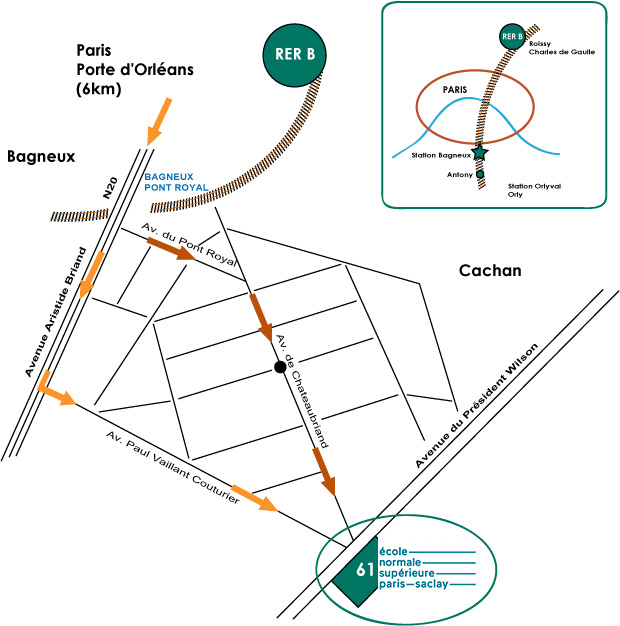 By car
From the A6 motorway, take the A6b then leave it at Fresnes. Follow the mainroad RN186 to the Croix de Berny in Antony. Take the mainroad RN20 by turning right in the direction of Bagneux. On this RN20 (avenue Aristide Briand), take the direction of Cachan (on the right when you come from Paris).
By subway
Take the express subway (RER) ligne B (towards either "Robinson" or
"Saint Rémy-lès-Chevreuse").
Be sure that the sign « Bagneux » is lip up (never get down at "Arcueil-Cachan" station, you would then have to walk half an hour more !) and get down at"Bagneux" station.
When leaving the station, make a left on the main road until the first traffic light. At this point, you can see the flag at the campus' entrance.
By bus
Line 184 Porte d'Italie - L'Haÿ-les-Roses: get down at "Camille Desmoulins" station

Line 187 Porte d'Orléans - Fresnes: get down at "Camille Desmoulins" station

Line 197 Porte d'Orléans - Bourg-la-Reine: get down at RER "Bagneux" station (then walk 10 min.)

Line 162 Villejuif - Cachan - Meudon: get down at "Mairie de Cachan" station  (then walk 10 min.)