Are Journalists Employees Like Any Others?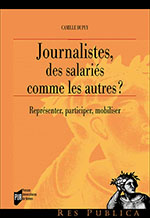 08/11/2016
Camille Dupuy, a sociologist at ENS Paris-Saclay's IDHES laboratory, publishes Journalistes, des salariés comme les autres ? Représenter, participer, mobiliser (Journalists, Employees Like Any Others? Representation, Participation and Mobilization) (Presses universitaires de Rennes)
This book is the outcome of a long field study focused on several editorial offices actively opposed to the consequences of restructuring, and the main journalism workers' organizations. It shows that, beyond its peculiarities, journalism as a profession does not escape an employment framework which, though certainly protective, is also liable to alter journalists' independence.

It analyzes the forms of representation, participation and mobilization used by journalists and highlights their ability to influence decisions impacting their work and its product, information.

With the support of the French National Centre for Scientific Research (CNRS) laboratory IDHES (UMR 8533).