Claude Didry, "Deregulation kills work"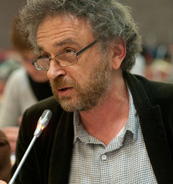 21/09/2015
Claude Didry, sociologist and researcher in ENS Paris-Saclay's IDHES laboratory, presented his recent book L'institution du travail – droit et salariat dans l'histoire (The Institution of Labour – Law and Employment in History), on the website The Conversation.
His book, published by La Dispute in January 2016, offers us a new reading that departs from conventional views of the current economic crisis and the publication of the Combrexelle, Terra nova and Montaigne reports.
He discussed his book on the website "The Conversation":
Labour law is often accused of being the main cause of rising unemployment. By being too heavy, too rigid, it has supposedly become a hindrance to economic growth. What do you think?
We hit a turning point in the 1990s with the persistence of a high level of unemployment. Since then, labour law has regularly been indicted by reports intending to "simplify" it.
Continue reading on The Conversation
The Conversation
First launched in Australia in 2011 (then in the UK in 2013, the EU and Africa), The Conversation aims to enrich public debate with news and views sourced from the academic community and published on an online media platform associating academics, journalists and editors.
Fabrice Rousselot (former editor in chief of Libération) and Didier Pourquery (Le Monde, Métro, Libération, Histoire) are editors of the French version.
Université Paris-Saclay is a partner of The Conversation, which has a French version available on the same platform as the English versions.
Université Paris-Saclay's objective is to make its academic potential known by publishing expertise, analysis and commentary in a language accessible to the general public and widely distributed under Creative Commons.