The Institution of Labour. Law and Employment in History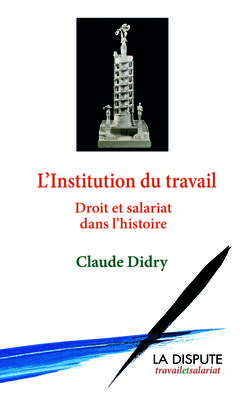 10/03/2016
Claude Didry, a sociologist in the IDHES laboratory at ENS Paris-Saclay, publishes L'Institution du travail. Droit et salariat dans l'histoire (The Institution of Labour. Law and Employment in History) (publisher: La Dispute).
Labour law has come under intense fire recently. It is criticized as archaic, too protective and too complicated, justifying a hysteria for reform. But where does this much disparaged institution come from?
In this book, sociologist Claude Didry gives an account of the historical dynamics of law and labour from the French Revolution to the present day.
His analysis helps us fully appreciate the break represented by the adoption of a labour code in France during the Belle Époque. It makes it possible to understand the employment contract as the basis of lasting and innovative cooperation between workers, engineers and technicians, from which both the industries and the great social struggles of the twentieth century were to emerge.
This new law was not just an irrational stack of protective measures, now made out to be obsolete. Instead, it instituted labour as a social activity defined by time—legal working hours—and place—the firm or institution. It then becomes clear that calling labour law into question can only accentuate the excesses of a financial capitalism that destabilizes companies by undermining work in its very essence.
This sweeping historical work makes us rediscover the importance of labour law in the lives of employees, and suggests extending it through an industrial social security system which would give work back its central place in companies and society.
Claude Didry and labour law
Claude Didry is a recognized specialist in the history of labour law and the sociology of industrial relations.
He is the author of Naissance de la convention collective, débats juridiques et luttes sociales en France au début du XXe siècle, (The Birth of the Collective Agreement, Legal Debates and Social Struggles in France in the Early Twentieth Century), published by EHESS in 2002; with Annette Jobert, he co-edited L'Entreprise en restructuration Dynamiques institutionnelles et mobilisations collectives, (Company Restructuring. Institutional Dynamics and Collective Mobilizations) (Presses universitaires de Rennes) in 2010. He contributes to a number of journals in France and abroad. He has been editor of the journal "L'Homme et la Société" since 2009.