A new Franco-Tunisian college for support with teaching experimental science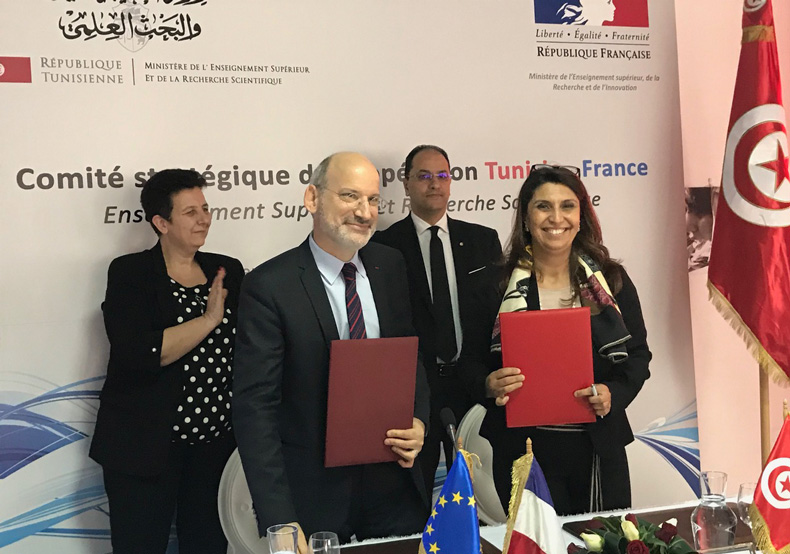 09/02/2018
As part of Emmanuel Macron's presidential visit to Tunisia, a framework agreement was signed on 1 February at the Ministry of Higher Education and Scientific Research (MESRS) in Tunis, under which École normale supérieure Paris-Saclay and the universities of Carthage, Gafsa, Tunis and Tunis El Manar join forces to create the "Franco-Tunisian College".


The presidents of all the Tunisian universities were present at the signing—Professor Olfa Benouda Sioud, University of Carthage, Professor Rachet Ben Younes, University of Gafsa, Professor Habib Sidhom, University of Tunis, and Professor Fethi Sellaouti, University of Tunis el Manar—as was Pierre-Paul Zalio, president of ENS Paris-Saclay.
Prof. Zalio then took part in the Tunisia-France Strategic Cooperation Committee for Higher Education and Research with Frédérique Vidal, French minister of Higher Education, Research and Innovation, Slim Khalbous, Tunisian minister of Higher Education and Research, and Prof. Benouda Sioud, president of the University of Carthage (see photo). Prof. Zalio also attended the first steering committee meeting of the Franco-Tunisian University for Africa and the Mediterranean.
The Franco-Tunisian College
The "Franco-Tunisian College" has been established to support Tunisian higher education and, more specifically, to address needs for experimental training which have been identified by Tunisian universities.
ENS Paris-Saclay will contribute to the project by providing the expertise of its academic and technical staff, who will assist with the choice and implementation of experiments and training for teaching staff in Tunisian partner institutions.
To support the organization of experiments in the Tunisian institutions, members of ENS Paris-Saclay academic staff will undertake a series of consulting visits to each of the Tunisian institutions.
Experiments at the heart of scientific training
The goal is to give practical work its rightful place in science education to ensure that graduates are job-ready. This will be done through:
the transfer of expertise, by putting in place experiments in Tunisian institutions that meet the needs of higher education in science and engineering;
 
a 5/5 programme: five consulting visits over five years for each Tunisian institution—one week per academic year—in disciplines related to physics and applied physics (mechanical engineering, civil engineering, electrical engineering and physics). The programme's extension to other areas (e.g. chemistry) may be considered;
 
building up a community around the knowledge economy by encouraging the development of academic and scientific collaboration and facilitating the exchange of science and teaching resources.
Tunisia has a rich human potential. A well-trained engineer with solid experimental expertise has all the assets to succeed in his or her job and contribute to the country's economic development.
Partners of the Franco-Tunisian College
The University of Carthage (UCAR) comprises 35 higher education and research institutions. It offers teaching and research programmes in a wide range of disciplines and sub-disciplines: science, engineering, law, economics, management, computer science, social sciences, literature, languages, arts, and early childhood and primary education.
UCAR has approximately 32,000 students and offers 303 degrees at different levels. Research training is provided through eight doctoral schools and the university's research activities are conducted in 39 laboratories and 27 research units.
The University of Gafsa provides scientific and pedagogical oversight over the institutions of the Gafsa and Tozeur governorates. 8,750 students are enrolled across the university's 10 institutions, faculties and schools.
With 42 bachelor's and 22 master's programmes, the University of Gafsa offers a range of academic and professional training in science, economics and management, technology, sport, industrial art and design, languages and social sciences.
The University of Gafsa has four research units and 48 university cooperation agreements.
The University of Tunis brings together teaching and research institutions in the humanities, social sciences, arts and culture, management and economics, and science and technology.
It has a student body of 22,000 spread among 15 institutions. More than 2,000 doctoral students are currently enrolled at the four doctoral schools that form the College of Doctoral Schools of the University of Tunis.
The University of Tunis El Manar (UTM) is known as "Tunis's University of Science, Technology and Medicine". It is multidisciplinary and covers the following fields: arts and social sciences; law, economics and management; science and engineering; medicine and health science.
It is made up of 15 institutes/faculties and has 33,000 students.
UTM has 173 cooperation agreements, 24 science and cultural associations, two UNESCO research chairs—one in mathematics and development, one in copyright and intellectual property—and five doctoral schools.
ENS Paris-Saclay is the grande école that prepares students for higher education and research careers. It is one of four French écoles normales supérieures and is a member of Université Paris-Saclay. A school of practical sciences, ENS Paris-Saclay combines teaching and research missions in science, engineering, and the social sciences. The school has a special focus on linking fundamental research to applications with a strong experimental dimension.