A new low carbon cement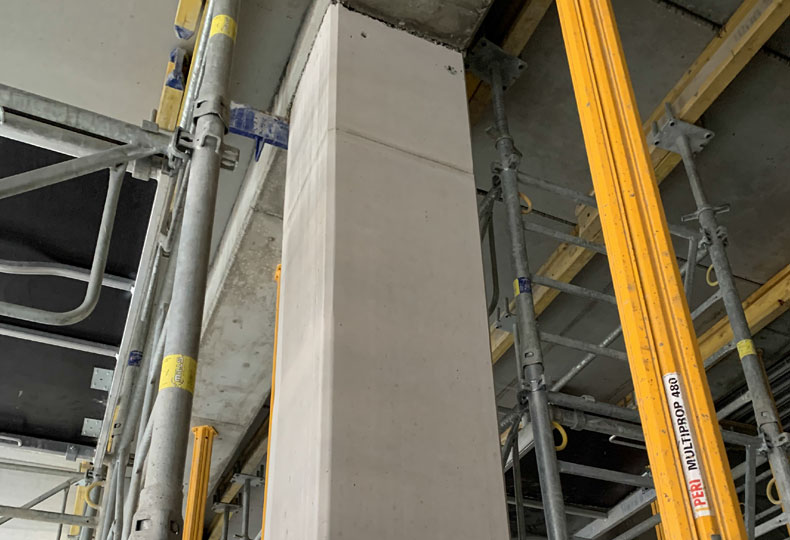 Low carbon cement (Crédit photo : LMT)
03/03/2021
With the growing awareness of the global warming issues, research activities on alternative cements with low carbon impact are becoming more and more widespread. The research activities of the new joint laboratory "Eco-Efficient Cementitious Materials" (MC²E) fall within this framework.

New Labcom: eco-efficient cemnetitious materials (MC²E)
Concrete (or cementitious materials in general) is the most widely used manufactured material in the world. It is mainly made up of Portland cement, which is responsible for about 7% of global CO2 emissions. Since its invention two centuries ago, Portland cement has remained largely dominant in the mix-design of construction and civil engineering materials.
The new LabCom "Eco-Efficient Cementitious Materials" (MC²E) is developing its research activities on alternative cements with a low carbon impact.
Its creation follows several years of collaboration between LMT and the company ECOCEM, and particularly within the framework of the research carried out by Mohend CHAOUCHE, CNRS Research Director at LMT in collaboration with Laurent FROUIN Director of Research & Innovation at ECOCEM.
This research, based in great part on fundamental aspects, has in particular led to the development of a new (patented) cement based on residues from the steel industry and whose carbon impact is reduced by about 80% compared to traditional cement (Portland). Various civil engineering structures have already been built by concrete industry partners using this cement.
Ces recherches, partant sur des d'aspects fondamentaux (voir Figure), ont notamment abouti à la mise au point d'un nouveau ciment (breveté) à base de résidus de l'industrie sidérurgique et dont l'impact carbone est diminué de 80% par rapport au ciment traditionnel (Portland). Différents éléments d'ouvrage  du génie civil ont été déjà fabriqués par des partenaires de l'industrie du béton avec ce ciment.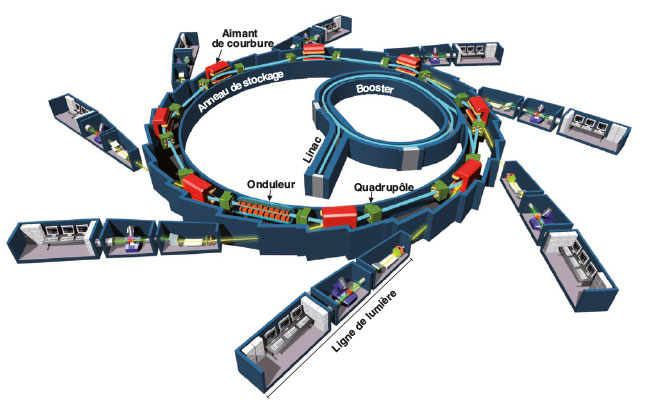 (1) Synchrotron (SOLEIL) where in-situ monitoring of the hydration of our cements has been carried out.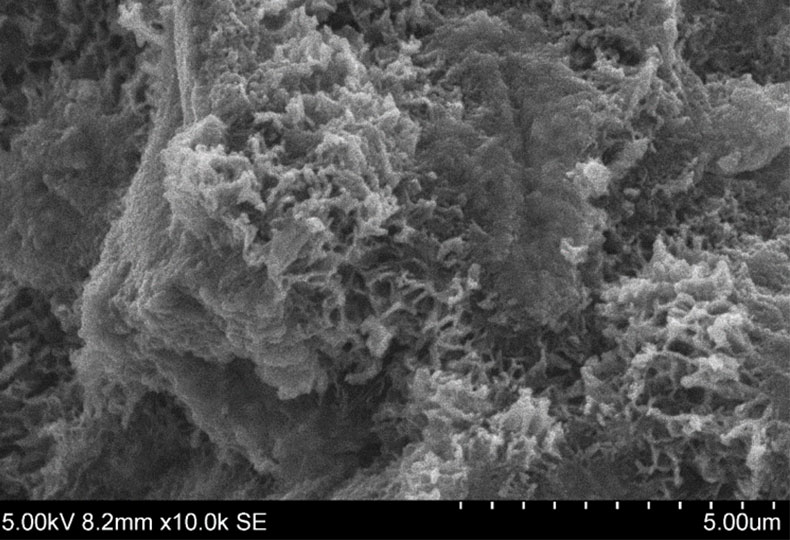 (2) Microstructure - chemical composition of the material at the submicron scale by SEM-EDX performed at LMT.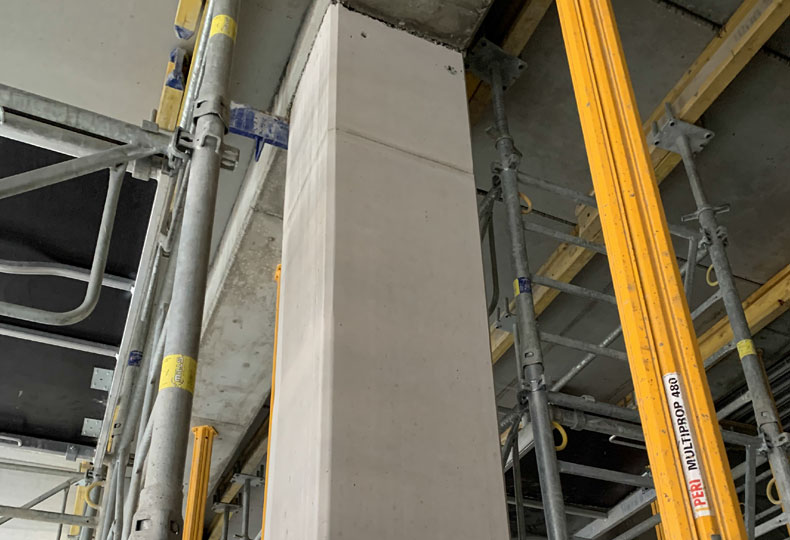 (3) One of the pillars of a structure poured with our ultra low carbon concrete..
Organization
LabCom Director:

mohend.chaouche

[at]

ens-paris-saclay.fr

(Mohend CHAOUCHE)

(CNRS Research Director)
Assistant Director : Roberta ALFANI (Deputy Innovation Director Ecocem).
Research axes
The LabCom's activities concern 2 main themes: cementitious materials with a very low carbon footprint and low carbon building materials for thermal comfort. This will involve largely multidisciplinary research activities and will be done in collaboration with several universities on national and international scales:
Rheology and Mechanics of Complex Materials
Physical chemistry of materials
Heat and mass transfer
Massive Data and Machine Learning
The partners
The LabCom"Eco-Efficient Cementitious Materials" (MC²E) is a joint laboratory between ENS Paris-Saclay, CNRS and ECOCEM.
The company ECOCEM was founded about twenty years ago by an Irish entrepreneur Donal O'Riain, the current Chairman and CEO, and has always had as its primary vocation the development of these new low carbon cements. In recent years, it has gone from being a pioneer in the field to a major player in Europe.
The technologies developed by the company aim to reduce the cement sector's carbon footprint by 50% by 2030 through the development of new low-carbon binders and by redesigning the formulation of traditional concrete.
Collaborative actions
Within the framework of the LabCom MC²E, several collaborative actions are planned, including:
Hosting in part-time Ecocem research engineers;Res
Several theses and post-docs within the LabCom: at a minimum, one thesis or post-doc each year, and with the objective of funding an average of two per year (PhD student or post-doc).
Institutional collaborations
INSA-Toulouse (LMDC laboratory)
Sorbonne-University (chemistry of condensed matter of Paris)
Technische Universität München (Department of Chemistry)
Polytechnic University of Sao Paulo (Department of Civil Engineering)
Industrial collaborations
Vinci Construction, Eiffage (building, Civil Engineering)
Arcelor-Mittal, Tata Steel (steel industry)
Sika Technology (admixtures)
ML-Academy (startup Machine Learning)