Paris-Saclay international welcome desk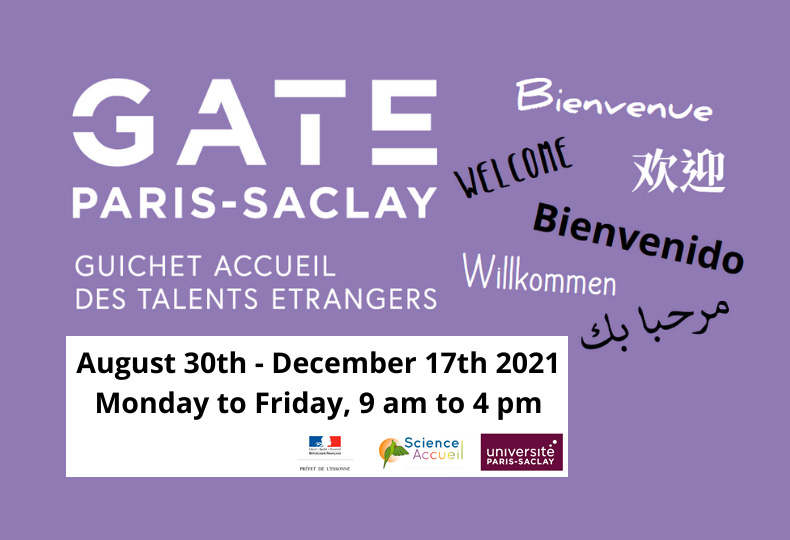 27/07/2021
The GATE, Paris-Saclay International Welcome Desk, is open to international students, PhD students and researchers from August 30th to December 17th, 2021.
You are experiencing some issues in your administrative tasks and you need some help? 
Thanks to the GATE, you can carry out, in a single location, all the necessary administrative procedures for your move and stay. 
Opening hours:
August 30th - December 17th, 2021
Mondays to Fridays from 9am to 4pm
Address:
CentraleSupélec
Bréguet Building
3 rue Joliot Curie
91190 Gif-sur-Yvette
GATE is composed of 9 partners present to help an accompany you:
Palaiseau Sous-Prefecture
Issuance of residence permits for students and researchers 
Science Accueil
Residence permit application
How to obtain a health insurance card
Applying for social benefits
Bank accounts, income tax
French as a foreign language courses
Accommodation and cultural activities
Support and comfort
Université Paris-Saclay
Residence permit for students
Housing and catering services
Health and sports
Financial and material supports
Housing allowance (CAF)
Information on your rights to housing allowance
Follow-up on your application
Health insurance (Ameli)
Information and registration for social security 
Follow-up on your application
Employment centre (Pôle Emploi)
Registration
Create your account
Looking for a job / student jobs
Support (CV, cover letter, job interview)
Versailles CROUS services
Housing
Grants and scholarships
Catering
Culture
Transportation in Ile de France 
Transport card (student, ImagineR, Navigo)
Transport network (RER, bus lines, etc.)
Campus France 
Workshops on how to settle in and life in France, health insurance, preventive measures