Durkheim Breakfasts 2022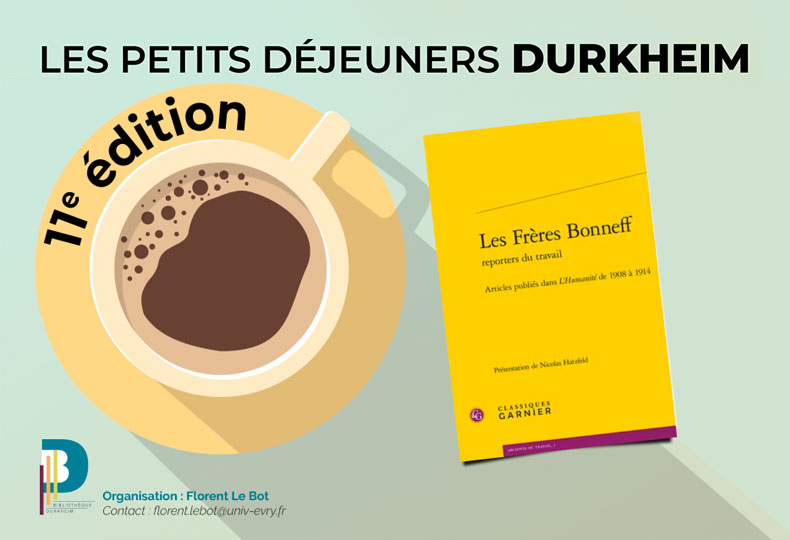 The first "Petits déjeuners Durkheim" of the 2022 season will take place on Friday, January 14, 2022, from 10:30 am to 12:30 pm, in distanciel. The book presented is "Les frères Bonneff, reporters du travail" by Nicolas Hatzfeld.
From 14/01/2022 (10:30) to 14/01/2022 (12:30)
Les frères Bonneff, reporters du travail
De Nicolas Hatzfeld (UEVE) Paris, Classiques Garnier, 2021. 
Discutant : Jean-Charles Geslot (UVSQ)
Articles publiés dans L'Humanité de 1908 à 1914

Abstract
On the eve of the First World War, the Bonneff brothers explore the world of work for L'Humanité. They note the techniques, the working conditions and the ways of life. In this book, one hundred of their articles are published, preceded by a biography and followed by an afterword that sheds light on this exceptional fresco.
Nombre de pages : 415
Parution : 29/09/2021
Collection : Archives du travail, n° 1
ISBN : 978-2-406-12320-0
ISSN : 2803-5194
DOI : 10.48611/isbn.978-2-406-12322-4
Éditeur : Classiques Garnier
Mise en ligne : 29/09/2021
Langue : Français
Les Petits déjeuners Durkheim sont soutenus par la MSH Paris-Saclay.