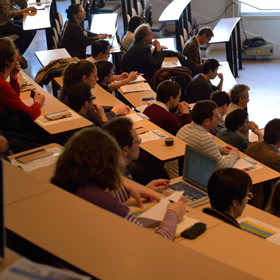 Doctoral college
The Doctoral College offers outstanding graduate programmes in sectors with high potential for scientific, technological, economic or social innovation. Its goal is to ensure the School's PhD graduates can successfully launch the career of their choice.
Organization
Bâtiment Sud-est
4, avenue des Sciences
91190 Gif-sur-Yvette
secretariat.ded

[at]

ens-paris-saclay.fr
Tel. + 33 1 81 87 49 79
Website
Organization
Director :

Frederic.MAZALEYRAT

[at]

ens-cachan.fr

(Frédéric Mazaleyrat)
Missions
In Université Paris-Saclay's doctoral environment, the ENS Paris-Saclay Doctoral College gives PhD students the means to prepare for their professional futures in higher education and research or other sectors.
Its responsibilities include:
administrative enrolment of PhD students (payment of tuition fees, issuing student ID cards and certificates of enrolment)
managing doctoral contracts with institutions
managing doctoral contracts specific to normalien students with trainee civil servant status
managing complementary teaching activities
managing enrolment for accreditation to supervise research (HDR)
The Doctoral College is also a place for interaction between disciplines, with meetings and presentations of PhD research organised through the "Club des doctorants" (doctoral students club).
It is a place for discovery and for honing professional skills, with conferences of general interest and activities organised  in collaboration with doctoral schools and research institutes, particularly within University Paris-Saclay.
Accreditation to supervise research
ENS Paris-Saclay grants accreditation to supervise research (habilitations à diriger les recherches or HDR). The application procedure is managed by the Doctoral College.
Accreditation to supervise research is a French national qualification for higher education teaching which may be obtained after a doctorate. It is regulated by the decree of 23 November 1988.
This qualification entitles its holders to officially supervise doctoral candidates.
Université Paris-Saclay Doctoral Schools
All ENS Paris-Saclay doctoral students belong to one of Université Paris-Saclay's 12 doctoral schools: