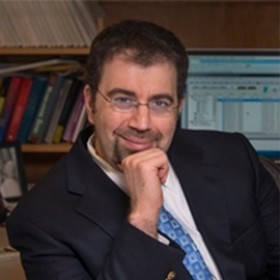 Daron Acemoglu
2017 Honorary Doctorate
Charles P. Kindleberger Professor of Applied Economics in the Department of Economics at the Massachusetts Institute of Technology
Daron Acemoglu earned his Ph.D. in economics from the London School of Economics and is currently Charles P. Kindleberger Professor of Applied Economics in the Department of Economics at the Massachusetts Institute of Technology.
He is a fellow of the United States National Academy of Sciences and winner of the 2005 John Bates Clark Medal, awarded every two years to the United States' leading economist under the age of 40.
He is the author of four books and more than 150 scientific articles that span the main fields of economics while forging very promising links to other disciplines. He is one of the 10 most cited economists in the world.
Research areas
Dr. Acemoglu's research covers a wide range of economics sub-disciplines: political economy, growth and development economics, human capital theory, economics of innovation and learning, labour economics and network economics.
Why Nations Fail
Why Nations Fail is one of Daron Acemoglu's principal works. Co-authored with James A. Robinson, then a professor at Harvard University, it was published in 2012.
The book draws on development economics, institutionalism and economic history to explain why over the course of history, some countries have become prosperous while others have remained poor.
The co-authors' central thesis is that "countries differ economically because their institutions, that is, the rules that influence the way an economy operates and the incentives that motivate individuals, differ." They develop case studies to illustrate their argument.
Rich countries are rich because they have "inclusive" institutions that are conducive to capital accumulation, risk-taking, and innovation. Poor countries are poor because their institutions are "extractive". In these countries, "narrow political elites organize society for their own benefit and at the expense of the vast majority of people". The expropriation of labour by a minority does not encourage innovation, without which sustainable growth is impossible.