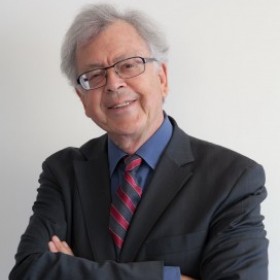 Stanton Wheeler Mentorship Award - Law and Society Association
Jacques Commaille
2014 Stanton Wheeler Mentorship Award
Emeritus Professor of Sociology at ENS Cachan
Jacques Commaille, est l'un des lauréats 2014 distingué par la Law and Society Association (Etats-Unis).
Un des 14 prix attribués par la LSA à l'occasion de son 50e anniversaire, Jacques Commaille est le seul lauréat européen à côté de douze Américains et un Japonais.
Jacques Commaille reçoit ce prix car « il a inspiré les étudiants à suivre son exemple en les encourageant dans leurs études et leur passion pour la recherche et en les guidant tout en les soutenant dans le développement de leur carrière. Avec ses anciens étudiants, il a joué un rôle important dans l'établissement du domaine de recherche droit et société en France  en le faisant reconnaître internationalement au niveau de l'enseignement et de la recherche ».
French Winner 2014
Jacques Commaille, who holds a PhD in sociology and a docteur d'Etat ès lettres, is emeritus professor at ENS Cachan and a researcher at the  Institute for Political Social Sciences (École normale supérieure de Cachan). 
For several years, Professor Commaille has worked towards developing a political sociology of law and justice in conjunction with a political sociology of public policy.
His research focuses more specifically on the processes of production of law in the area of family and social policy.
Career
He initially trained in general sociology and was a student of Raymond Aron, Georges Gurvitch and Pierre Bourdieu.
He went on to expand his field of expertise to law, thanks to a collaboration of several years with the ministry of justice and with civil law specialist Jean Carbonnier, and to political science, through years of research and teaching at the Paris and Grenoble Institutes of Political Studies.
He is a Chevalier des Palmes Académiques and holds an honorary doctorate from the Université libre de Bruxelles. 
Law and Society Association
The Law and Society Association, localisée à Salt Lake City (Utah, États -Unis), est une organisation académique interdisciplinaire spécialisée dans des analyses scientifiques sociales, historiques et d'interprétation de la loi à travers des contextes sociaux variés. Elle est la plus importante société savante au monde dans ces domaines.
Le prix Stanton Wheeler (Professeur de sociologie/droit, à l'Université de Yale), récompense une personnalité reconnue par ses pairs comme guide et inspirateur pour les étudiants et professionnels, par ses travaux remarquables sur des questions de droit et de société.