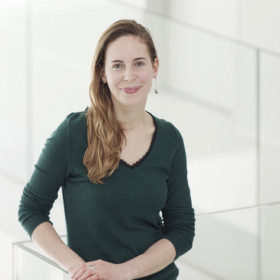 Elsa Cassette - © Laurent Ardhuin
Elsa CASSETTE
Researcher in physical chemistry (LuMIn), CNRS Bronze Medalist 2022
Elsa Cassette, CNRS bronze medal winner in 2022, is a researcher in physical chemistry specialising in photophysics at the Light-Matter at Interfaces laboratory (LuMIn). A look back at her career...
Her research areas
Elsa Cassette studies the interaction between light and matter in chemically synthesised semiconductor nanomaterials in order to identify and control the parameters of interest in these materials.
Since her recruitment to the CNRS, she has focused on the study of halogenated perovskites, materials that hold great promise for the future of optoelectronic devices (solar cells, LEDs, etc.). It is particularly interested in colloidal nanoplatelets, two-dimensional crystalline nanostructures in solution with a thickness of only a few monolayers (a few nanometres or less).
In order to improve the efficiency of these devices in emitting light or converting it into electricity, it is essential to understand the fundamental and ultrafast dynamic processes involved. To this end, Elsa Cassette is developing and using innovative time-resolved spectroscopy techniques based on femtosecond (10-15 seconds) laser sources, in the UV and visible range.
Her background
2012: PhD in physics and chemistry of materials at the Laboratory of Physics and Materials Studies2 at ESPCI Paris-PSL
2012-2016 : Postdoctoral fellowship at the University of Toronto (Canada) and Princeton (USA)
2016-2019 : ANR Accueil de Chercheurs de Haut Niveau, CaMPUUS project
2016: Joining the CNRS - Research Fellow at the Interactions, Dynamics and Lasers Laboratory3
2021 : Arrival at the Light-Matter and Interfaces Laboratory