Germaine Richier's large siprale goes to the Centre Pompidou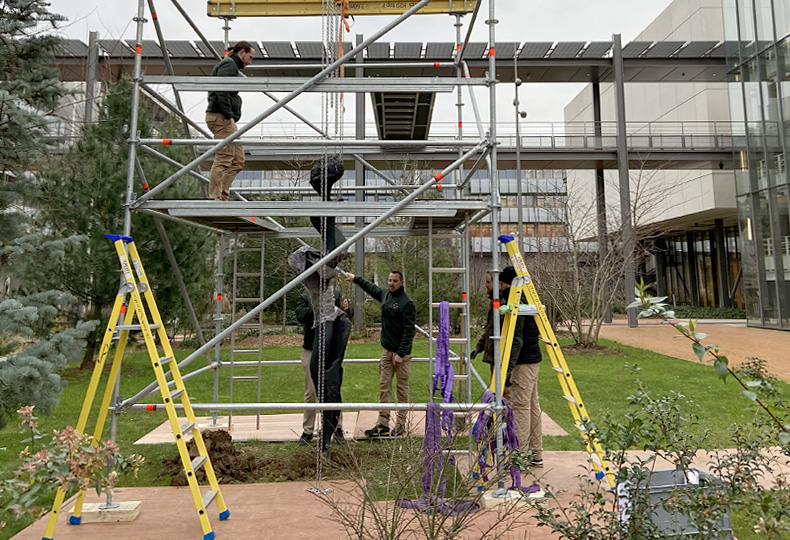 03/02/2023
On the occasion of the major retrospective exhibition "Homage to the sculptor Germaine Richier (1904-1959)" from 1 March to 12 June 2023 at the Centre Pompidou in Paris, ENS Paris-Saclay is lending its bronze sculpture, the artist's "Grande spirale", located in the central clearing of the ENS Paris-Saclay garden.
PRACTICAL INFORMATION
Exhibition from 1 March to 12 June 2023
- Every Monday, Wednesday, Friday, Saturday, Sunday: 11am - 9pm
- Every Thursday: 11am - 11pm,
- Closed on Tuesdays and May 1st
See the Centre Pompidou website.
Reservations are strongly recommended.
Exhibition: Germaine Richier at the Centre Pompidou
A tribute to the sculptor
The exhibition on Germaine Richier retraces her artistic career chronologically, shedding light on the major themes that nourish her sculptural practice (the human, the animal, myths, etc.).
Germaine Richier was born on 16 September 1902 in Grans (Bouches-du-Rhône) and died on 31 July 1959 in Montpellier (Hérault).
In 1926, she became the only private student of the sculptor Antoine Bourdelle, who welcomed her in his private studio on the Avenue du Maine until his death in 1929.
As soon as she arrived in Paris, her sculpture was noticed and appreciated.
In 1936, she received the Blumenthal prize, then the medal of honour for her work "Méditerranée" in the Languedoc-Mediterranean pavilion at the 1937 Universal Exhibition.
Our heritage
The School has a large number of works in its building and garden on the Saclay plateau campus. This privileged place with green spaces and a collection of sculptures and paintings marks our desire for a strong artistic presence in a place of science.