International Women and Girls Science Day 2023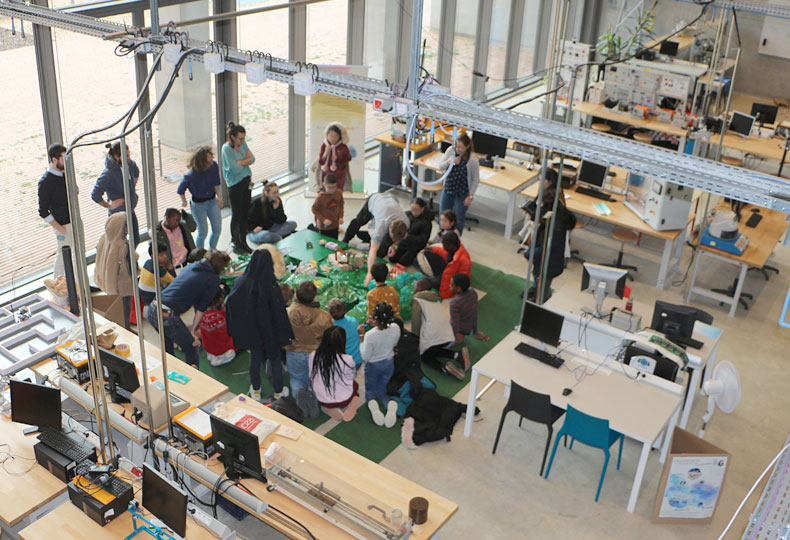 13/02/2023
Every year, 11 February celebrates the International Day of Women and Girls in Science.
On Thursday 9 and Friday 10 February 2023, scientists from ENS Paris-Saclay welcomed elementary classes from the Plateau du Moulon school and the Palaiseau Paris-Saclay international high school. The aim was to make them aware of the scientific research professions and to show the place of women in the scientific and technological community of the School.

International Women and Girls Science Day 2023
This international day proclaimed in 2019 by the United Nations aims to promote and increase the participation of women and girls in science.
It follows the finding by the UNESCO Institute for Statistics that less than 30% of researchers worldwide are women.
Between 2014 and 2016, only about 30% of female students choose science, technology, engineering and mathematics-related fields in higher education.
This event is a reminder that women and girls play a key role in the science and technology community and that their participation must be strengthened.
Disseminating scientific knowledge
The students were able to follow different scientific workshops in chemistry, physics, biology or engineering sciences (mechanical engineering and civil and environmental engineering), led by student/teacher pairs of equal numbers of male and female scientists.
Electrophysiology workshop
With high school students: using electric fields to capture and move cells in a bio-microsystem
The idea is to use the interactions between the electric field and living organisms.
Two multidisciplinary research themes are studied here: the development of characterisation methods for microalgae in order to produce biofuels and also to better understand the behaviour of cancer cells.
For the latter, the interactions between electric fields and cancer cells are exploited to carry out cell sorting by dielectrophoresis: in a sample of healthy cells and cancerous cells, the application of an electric field can make it possible to separate the two types of cells.
This manipulation was illustrated on polystyrene beads with cell-like behaviour to show in real time how to control their movement. The biochip used for this experiment was presented to the students and they themselves were able to place a sample of the beads on it and observe the phenomenon under the microscope.
Applications of deep learning and artificial intelligence to track cells with various geometric shapes were also presented.
Science for Engineering Workshop
Building an ecological village with the CM1/CM2
To carry out this mission, the pupils will be divided into teams and will have to work together to propose the most appropriate solution and install it on the plateau. The mission will be carried out while learning about engineering concepts and personalities in the field.
Chemistry workshops
Chemistry and light
The aim is to show how chemistry can give rise to light, or understand the phenomena that produce it (luminescence).
During this day, a link will be made with the work of Marie Curie, an illustrious scientist who won a Nobel Prize in physics and another in chemistry, on Radium and its radioluminescence (emission of light linked to the radioactive decay of a body).
Forensics
The workshop consists of finding the culprit(s) of a theft by analysing several clues.
These workshops were developed as part of a teaching unit on the dissemination of knowledge to various audiences. The experimental kits used were designed to be used with people with disabilities or in hospitals. These kits make it possible to carry out simple and fun chemistry experiments, and earned their inventor, Jonathan Piard, the 2021 SCF-IdF (Société Chimique de France - Île de France) prize for scientific mediation.
Biology workshops
Observation of dividing cells from garlic roots
Extraction of DNA from spinach leaves and determination by spectrophotometry.
Observations of micro-organisms in our environment (water in the ENS ponds, mouldy vegetables, cheese rinds)
These workshops were supervised by two female and one male student from the Biology DER who took the opportunity to present their career path and explain their interest in science and scientific studies.
The following people took part in these awareness-raising days
Engineering Sciences

Civil and Environmental Engineering and LMPS: Clotilde Chambreuil, Cécile Oliver-Leblond, Héloïse Rostagni
In Mechanical Engineering: Liam Deshayes, Emeline Faugère,
At LMPS: Marie Caruel, Alexandre Daby-Seesaram, Arnaud Montabert
At LURPA: Romain Thibert
In electrical and electronic engineering: *Sakina Chantoiseau-Bensalem, Mélanie Pietri, Charlotte Neel

Mathematics: Améthyste Bichard, Jules Duhamel, with the help of Rémi Tesson
Computer science: Marie Tcheng, Maelle Gautrin
Research Stage: Alice Defloraine
For the Med: Théo Le Moigne, Etienne Stransky, Tristan Parcollet
Chemistry: Aurore Nivert, Sixtine Charpy, Amaury Laporte, Amandine Oliveira, Cassandre Nicolas and Blanche Tardif de Moidrey
Physics: Oriane Strouk, Warda Ramdane, Justine Acher, Florian Dedieu, Rémi Bouffet, Raphaëlle Brasseur, as well as Marie-Pierre Adam and Clément Lafargue from the teaching team
Biology: Fanny Pairault, Jeanne Aubert, Natacha Moné, Yaëlle Aydan, Nathalie Heinzelmeier, Ugo Momi and Julie Pauliat, with the help of Valérie Péris-Delacroix