Travel instructions to and from abroad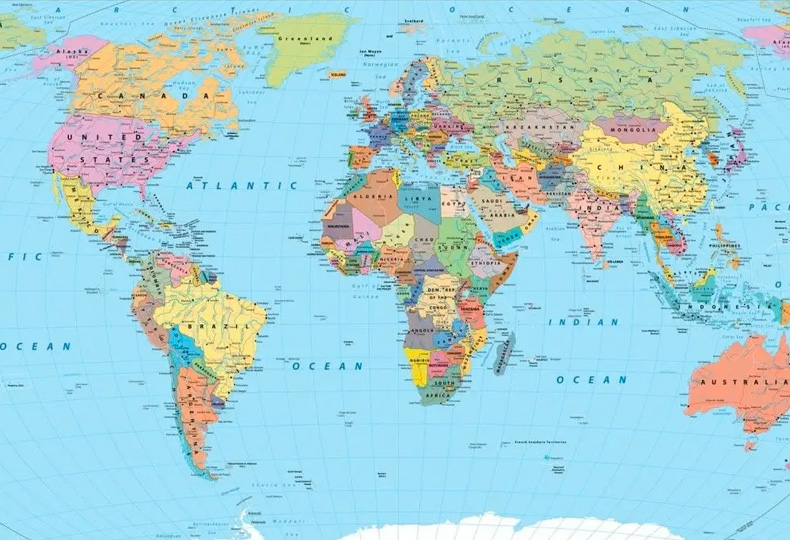 02/07/2021
Updated from 10/03/2022.
Find the safety and health travel instructions for international travel.
Safety instructions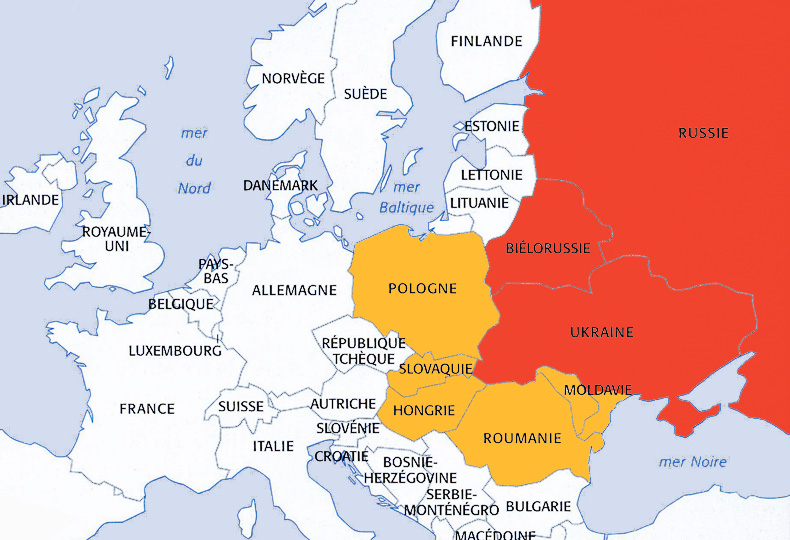 ---
Health instructions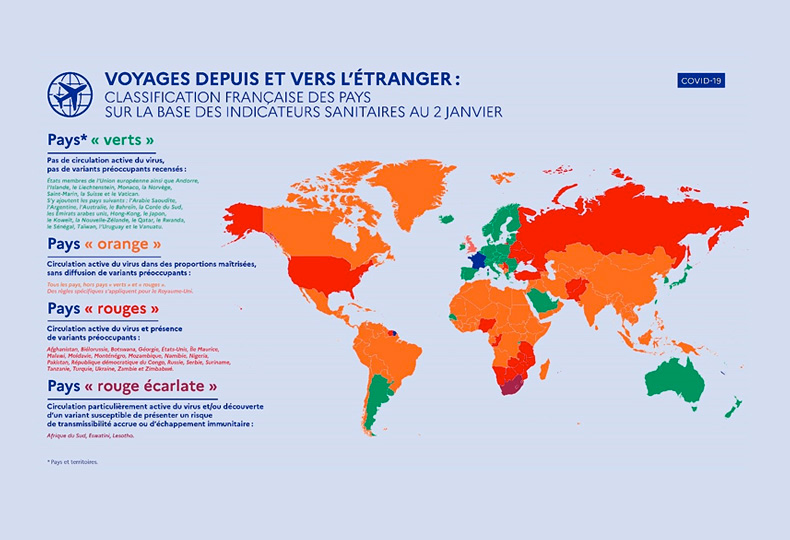 "Green list" countries
Without active circulation of the virus and variants of concern
Member States of the European Union as well as Andorra, Iceland, Liechtenstein, Monaco, Norway, San Marino, Switzerland and the Vatican.
Angola, Argentina, Bahamas, Bahrain, Bangladesh, Benin, Bolivia, Botswana, Cambodia, Canada, Cape Verde, Chad, Colombia, Comoros, Côte d'Ivoire, Cuba, Djibouti, Dominican Republic, Ecuador, Equatorial Guinea, Eswatini, Fiji, Gabon, Ghana, Guinea, Guinea Bissau, Honduras, Hong Kong, India, Indonesia, Iraq, Jamaica, Japan, Kazakhstan, Kenya, Kuwait, Laos, Lesotho, Mauritania, Mauritius, Morocco, Namibia, Nepal, New Zealand, Nicaragua, Oman, Pakistan, Paraguay, Peru, the Philippines, Qatar, Rwanda, Saint Kitts and Nevis, Salvador, Samoa, Saudi Arabia, Senegal, South Africa, South Korea, Sri Lanka, Taiwan, Tanzania, Togo, Uganda, United Arab Emirates, Vanuatu, Venezuela, Vietnam, Zambia and Zimbabwe.
"Amber list" countries
Active circulation of the virus but in controlled proportions, without the spread of variants of concern. 
These are all countries not included in the list of "green" countries
For more information, visit the website of the Ministry of the Interior
Since February 4, 2022, the rules in force for countries classified on the orange list apply from and to the United Kingdom.
Rules applying at borders
For travelers vaccinated within the meaning of European regulations, no more tests is required on departure. Proof of a complete vaccination schedule becomes sufficient to arrive in France, regardless of the country of origin, as was the case before the distribution of the Omicron variant.
For unvaccinated travellers, the obligation to present a negative test to travel to France remains, but the measures on arrival (test, isolation) are lifted when they come from countries on the "green" list, characterized by a moderate circulation of the virus.
When unvaccinated travelers come from a country on the "orange" list, they must continue to present a compelling reason justifying the need for them to come to mainland France and may still be subject to a random test on arrival. Travelers who test positive will have to isolate themselves, in accordance with the recommendations of the Health Insurance.
In the event of an emergency characterized by the appearance of a variant likely to present a risk of increased transmissibility or immune escape, the "emergency brake" mechanism will be activated and the country will then be placed on the "red" list, implying, as is the case today, the obligation to present a compelling reason for travelling, the obligation to present a negative test on departure - including for vaccinated travelers in the event of a variant presenting the characteristic of an escape immune-, and the obligation to undergo a test on arrival conditioning the placement in quarantine decided by the prefects and controlled by the police.
---
Adaptation of the authorisation procedures for mobility and international missions at ENS Paris-Saclay 
Each mobility project (students, PhD students, academic and administrative staff) from abroad (

ri-incoming

[at]

ens-paris-saclay.fr

) and to foreign countries (

ri-outgoing

[at]

ens-paris-saclay.fr

) have to be transmitted to the International Relations Office (SRI) which instructs it on a case-by-case basis. 
Requests for international mobility have to be submitted to the opinion of the Defence Security Officer (FSD). Without a favourable decision notified by the SRI, mobility is not allowed. 
Conditions of access (subject to the rules of the country of destination)
"Green list" countries: international mobility is authorized with no compelling reason requirement; 
"Amber list" countries: permitted mobility, without compelling reason for vaccinated persons. For unvaccinated people, participation in an university exchange programme is considered a compelling reason; 
United Kingdom: whether vaccinated or not, a compelling reason is mandatory to travel to the UK. Participation in an university exchange programme is considered a compelling reason;
"Red list" countries: unvaccinated travellers are subject to the compelling reasons system to be admitted in France. Participation in an university exchange programme, justified with a certificate of enrollment, is considered a compelling reason to enter French territory. 
"Scarlet list" countries: travellers, vaccinated or not, you are required to produce a compelling reason. 
Proof of vaccination
Proof of vaccination is valid only on condition that it proves that a complete vaccination plan has been carried out, namely:
7 days after the second injection for double-injection vaccines (Pfizer, Moderna, AstraZeneca / Vaxzevria / Covidshield);
4 weeks after the injection for one-injection vaccines (Johnson & Johnson); 
7 days after the injection for people who previously contracted the Covid-19 (only 1 injection necessary). 
Travels within the European Union
To travel within the European Union, it is currently not necessary to provide proof of the reason for travel, but pre-test and quarantine obligations may apply. 
The health pass is recognized for travel within the European area, in the form of a European certificate. The European Union's digital Covid certificate may include proof of vaccination, a negative result or proof of recovery from Covid less than 6 months old. States may also establish additional health measures if they are necessary and proportionate (for example: test, quarantine, etc.). 
International students and researchers
International students and reasearchers can refer to the Campus France dedicated webpage: "Travel to France: information for international students and researchers" in order to obtain updated information to prepare their stay in France.