Chemistry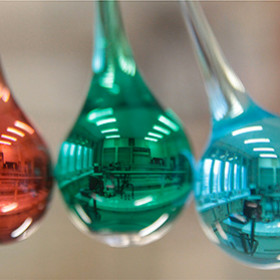 Master of Chemistry
The two-year Master of Chemistry programme allows students to gradually hone their personal career goals and corresponding specialization, with access to a wide range of research- (R) and professionally-focused (P) courses in various areas of chemistry and its boundaries with other disciplines (life sciences, environment, nanoscience, etc.).
Objectives
The programme aims to provide both the knowledge required by a future chemist (organic chemistry, coordination chemistry, theoretical chemistry, spectroscopy, etc.) and all the expertise needed for the practice of chemistry (lab work, internship, research placement, etc.). Students also discover chemistry's contributions to interfaces with other disciplines through elective courses (chemical physics, molecular engineering, nanoscience, etc.).
Bachelor
LDD3 : Physique/Chimie - Parcours Frédéric Joliot-Curie
Masters
M2 : Formation à l'enseignement supérieur en chimie
M2 : Molecular Chemistry and Interfaces (MOCHI)
Program delivered in English. 
Program open to international students. 
The master "Molecular Chemistry and Interfaces" is a high-level scientific and academic joint program proposed by University Paris-Saclay and Ecole Polytechnique. It is devoted to molecular chemistry and gives state-of-the-art knowledge in academic sciences bringing as well the students towards their applications in academic research and industry. Taught in English, the training is devoted to organic & organometallic chemistry, catalysis, supra & macromolecular chemistry, theoretical chemistry,  chemistry & biology and chemistry for optoelectronics.
Careers
Master of Chemistry graduates can either go on to doctoral study or seek employment in France or abroad.
A master's degree in chemistry opens up a wide range of career options (depending on the specialization, and following a PhD where necessary) in the private and public sectors (companies, research and consultancy firms, the civil service): R & D engineers, project managers, laboratory or department heads in various sectors (chemical, pharmaceutical, agri-food, environment, analysis, petrochemistry, nanotechnology, materials, etc.), research engineers, researchers, academics, etc.