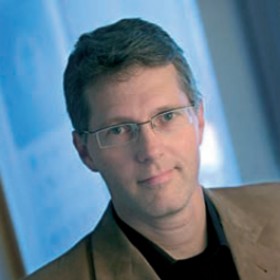 Computer Science
Kim Guldstrand Larsen
Professor of computer science at Aalborg University - Director of CISS. ENS Cachan honorary doctorate in 2007.
Kim Guldstrand Larsen is professor of computer science at Aalborg University and has been the director of the Center for Embedded Software Systems (CISS) since its creation in 2002.
He is also director of the newly started DaNES project (DanishNetwork for Intelligent Embedded Systems).
Kim Guldstrand Larsen is member of the Royal Danish Academy of Sciences and Letters and of the Danish Academy of Technical Sciences.
For a period of seven years, he served as member of the Danish Natural Science Research Council. In 2005, he was awarded by Thomson Scientific as the most cited Danish computer scientist in the period 1990-2004. In 2007, he became Knight of the Order of the Dannebrog by Queen Margrethe II of Denmark.
Speciality
For the last 20 years, he has been one of the most active specialists in the field of modeling and verification of real-time and hybrid computational systems. He is prime investigator for the UPPAAL model-checker that remains today the best and most widely used tool for verifying networks of timed automata.
In addition, Kim Guldstrand Larsen has been a foremost advocate and champion of formal approaches for complex critical systems, with a high emphasis on industrial transfer.
He co-founded the TACAS conference series, organized numerous international conferences and workshops and is a favorite invited lecturer.