A significant act for design research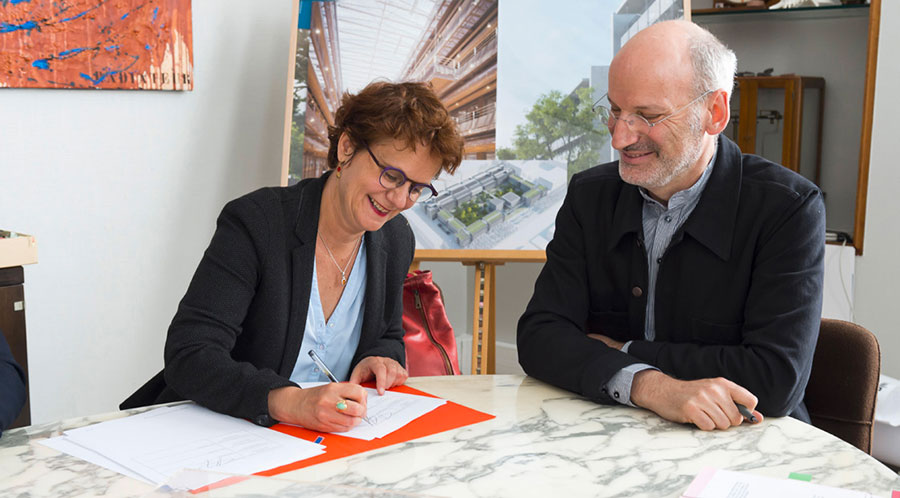 25/06/2019
The Centre de Recherche en Design was created under the impulse of the two supervisory institutions by which it is now supported: the École normale supérieure Paris-Saclay (ENS Paris-Saclay) and the École Nationale Supérieure de Création Industrielle (ENSCI-Les Ateliers).
In June 2019, Pierre Paul Zalio, President of the ENS Paris-Saclay, and Anne Nouguier, Interim Director of ENSCI-Les Ateliers, sign the agreement that seals the birth of the new "Centre de Recherche en Design".

 

Base in Île-de-France, it is located in the heart of the Paris-Saclay University campus in a building created by Renzo Piano for ENS Paris-Saclay, and benefits from the historical workshops of ENSCI-Les Ateliers and their well-reputed expertise.

This multi-site site offers the design researchers they host a favourable environment where training institutions, laboratories and industries of international influence converge.
The research axes:
Axis 1 - Laboratory design: construction of scientific knowledge and forms of invention.
Axis 2 - Design of the devices: increased body, digital spaces and manufacturing of technical imaginaries.
Axis 3 - Design and ecologies: natural and urban environments, production systems and norms transformation.
Axis 4 - Design and politics: citizenship, collectives and institutions.
Transversal axis - Critical studies and design epistemology
The two co-directors are:
- Anne Lefebvre (ENS Paris-Saclay)
- Armand Behar (ENSCI-Les Ateliers).
 
Addresses
With the support of the ministère de l'Enseignement Supérieur, de la Recherche et de l'Innovation, the ministère de la Culture (MIR – Mission Recherche) et the ministère de l'Economie, de l'Industrie et de l'Emploi.
L'ENSCI-Les Ateliers is member of HESAM University.