ENS Paris-Saclay launches its affiliated start-up club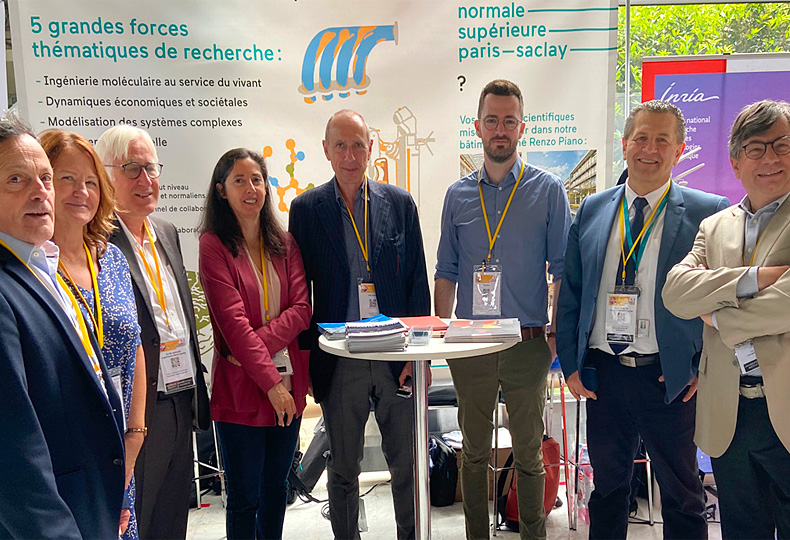 30/05/2022
On the occasion of Paris-Saclay Spring, in May 2022, ENS Paris-Saclay launches its affiliated start-up club by bringing together its start-ups and signing the first partnership agreements with Eikosim, Kimialys and Magic Lemp.
The club of affiliated start-ups
In its desire to strengthen the links between research and companies, especially those in which our alumni work, ENS Paris-Saclay creates a club of affiliated start-ups, in line with the law No. 2020-1674 of December 24, 2020 on research programming.
The objectives of the club
The aim is to :
to highlight the work of start-ups which, through their scientific, technological or pedagogical innovation, provide an answer to a problem or a challenge of our society;
to intensify opportunities for communication and meetings with students and teacher-researchers at ENS Paris-Saclay;
to strengthen the links between academic actors and companies, in particular within the Paris-Saclay cluster.
Alumni creators of companies in many sectors of activity
Among its alumni, ENS Paris-Saclay counts many start-ups, men and women, who have created start-ups in France, the United States, Switzerland and Japan.
They are developing their activities in 12 sectors ranging from health to IT, including education, research, mechanical engineering, electronics, aeronautics, construction, services, leisure, food processing and distribution.  All the school's training departments are represented, the main ones being mathematics (28%), physics (15%), mechanical engineering (13%) and economics and management (11%).   
The first 3 partnerships signed
Eikosim, Magic Lemp and Kimialys are the first three start-ups to join the club by signing a partnership agreement.
Florent Mathieu, CEO of Eikosim, explains: "This club strengthens our already strong ties with the Laboratoire de Mécanique Paris-Saclay (LMPS - ENS Paris-Saclay, CentreSupélec, CNRS). It's a new playground for sharing our experience with the students of the Ecole Normale Supérieure, promoting our activities and also finding new business opportunities with the school's partners. "
Raphael-David Lasseri, CEO of Magic LEMP, adds: "Magic LEMP's identity has developed around our training and research status. The ambition of its team is to build effective and increasingly obvious bridges between fundamental applications and society. This transfer demonstrates that the trusted AI we develop is nourished and enriched by our activities as researchers, without discontinuity. With this club created by ENS Paris-Saclay, we are also interested in the possibilities offered by the School's campus and a collaboration for the training programmes we are developing to accompany the solutions implemented at our clients' sites."
For Cyril Gilbert, CEO of Kimialys: "We are developing a very strong link with ENS Paris-Saclay. On the one hand, our laboratory is located within the establishment, which gives our engineers access to quality equipment, some of which is essential to our business. On the other hand, we maintain a close collaboration with the Applied Biology and Pharmacology Laboratory (LBPA - ENS Paris-Saclay, CNRS), from which our technology originates and with which we are currently working on an innovative in vitro diagnostic test project. This physical and scientific proximity makes our membership of this club all the more relevant, with obvious synergies in terms of recruitment and training of the school's students, but also in terms of collaborations between industrialists, ENS Paris-Saclay and Kimialys".
A dynamic with alumni
Making this career opportunity more visible for the "normaliens", a "disruptive" project compared to the insertion in public research and higher education, shows how much the School has been able to evolve in recent years. The ENS alumni association regularly organises thematic afterworks.
Jérôme Laurre, President of the ENS alumni association: "ENS Alumni is committed to the School to support entrepreneurial projects resulting from research training through research. These young companies testify to the vitality of French research and its interweaving with the economic fabric."
This collaboration allows students interested in creating a company to benefit from the experience of their elders.