Your start of the 2020 academic year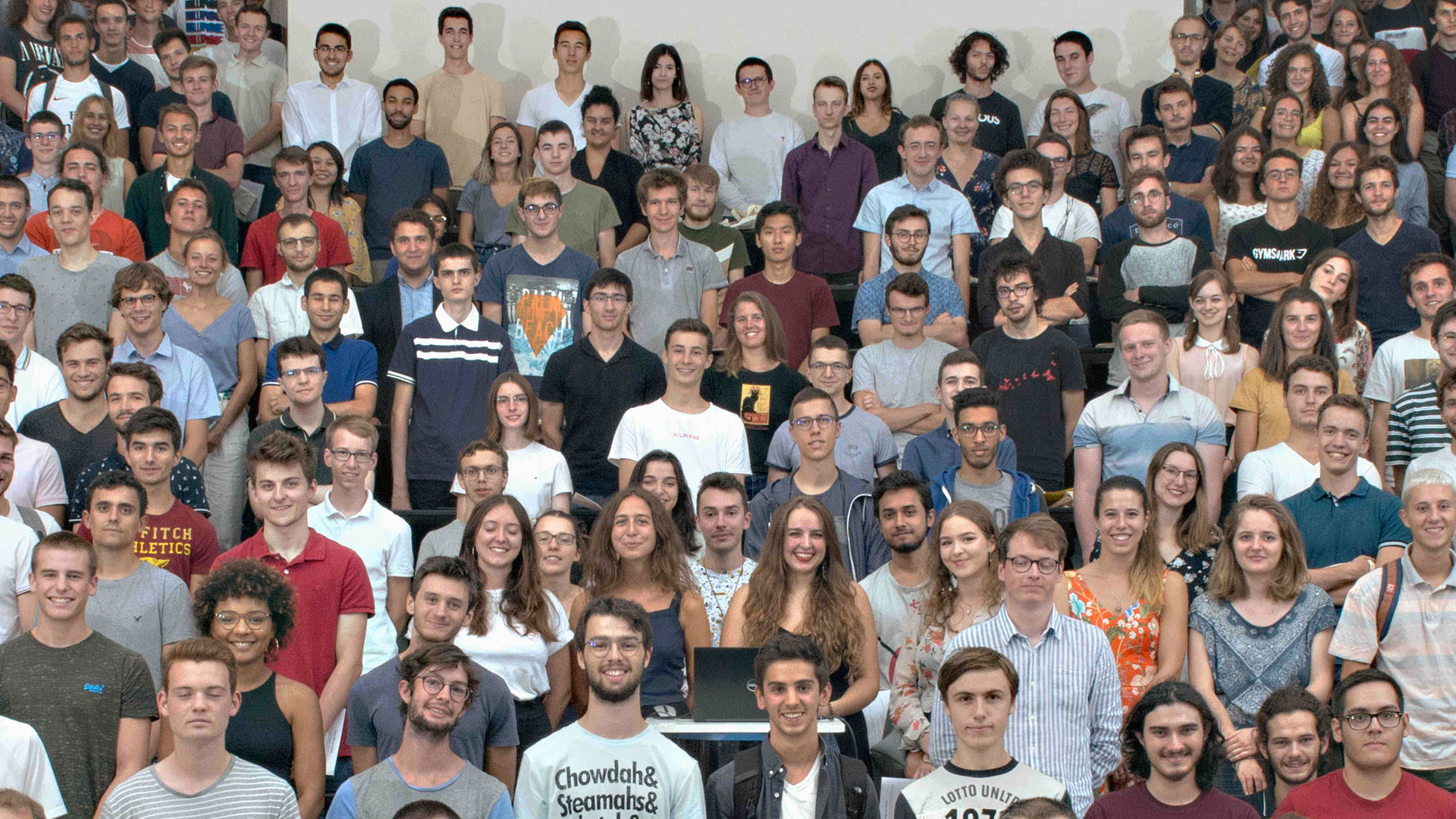 ENS Paris-Saclay : promotion 2019
27/07/2020
The first academic year in our new building at the Saclay plateau campus, from 7th September 2020! Here you'll find the calendar for the start of the 2020/2021 academic year and our main guidelines.
We congratulate you on your admission to ENS Paris-Saclay and welcome you to your new school.
 

CALENDAR FOR THE START OF THE 2020/2021 ACADEMIC YEAR
31st AUGUST
Opening of the library
7th SEPTEMBER
- Reception of the 3rd and 4th year students within the departments and the Teaching and Research Departments (DER)
8th SEPTEMBER
- Morning: reception of the 2nd year students
-  From 2pm to 6pm: reception of newcomers  with a tour of the new building and the associations forum
9th SEPTEMBER
- From 1pm: laboratory forum
- From 4:15pm to 5pm: culture presentation *
- From 17:00 to 20:00: presentation of  sporting practices  *
10th SEPTEMBER
- From 8am to 6pm: open day at the Teaching and Research Departments (DER).
- From 12:15pm to 2pm: start of academic year for international newcomers, with a presentation of services and face-to-face welcoming of students, in small groups or remotely.
17th SEPTEMBER "INTRODUCTION"
- From 8:00am to 6pm: day for presentation on risk prevention and the activities of the ENS Paris-Saclay diploma.  
Mandatory health and safety rules
The 2020-2021 academic year is being organised based on guidelines from the Ministry of Higher Education, Research and Innovation, which can be found on the DGSIP website.
Wear a mask
The use of barrier gestures : physical distancing, with at least 1 metre between each person ;
Cleaning and disinfection of premises and materials ;
Hand sanitizer will be placed in front of lecture halls, student living areas, and in front of each access door to the building from the garden.
Specially adapted learning spaces
Rooms must allow for a distance of at least 1 metre to be maintained between people, whether they are meeting rooms, classrooms, or tiered rooms.
Depending on the type of room, the following capacities must be strictly observed:
Meeting rooms: capacity divided by 2, distance of 1 metre (1 chair out of 2)
Classrooms and tutorials: capacity divided by 2, distance of 1 metre (1 student per table on double tables, or separate individual tables at a distance of 1 metre)
Tiered classroom: capacity divided by 2, distance of 1 metre (1 seat out of 2, staggered)
Teaching by rotation can be offered. Guidelines for the use of practical work rooms will be established.
Specially adapted educational formats and digital tools
Due to physical distancing requirements, the organisation of lessons and teaching methods have been re-conceived to make use of digital technology.
The working group led by the ENS Paris-Saclay Educational Initiatives Group (GIPENS)  was set up to consider ways to adapt and make use of digital tools, and to support teachers in maintaining teaching stability.
Adjustments to diploma activities have also been proposed.
​Online administrative registrations
For normaliens-élèves and normaliens-étudiants, administrative registrations are open until 30th October 2020.

Continuity of service is ensured throughout the summer period, including when the establishment is closed, in order to allow as many administrative registrations as possible. 
Administrative registration allows you:
- to access to your professional email address "@ens-paris-saclay.fr" and the intranet.
- to obtain your multi-service student card.
Support for student and campus life
The Education and Student Life Department (DSVE) is available to answer any questions relating to accommodation and enrolment during the summer.
Contact: dsve [at] ens-paris-saclay.fr
Accommodation
See the page dedicated to accommodation
Contact: logement [at] ens-paris-saclay.fr 
The Students' Association (BDE) at your service
Directly ask students any questions about our school or for useful information. Don't hesitate to talk to the École Normale students. They can answer your questions because they were also newcomers at one point!
By private message via their Facebook page;  
With Discord if you want to ask a student several very specific questions or remain anonymous; 
By email:

respocomm.bde.ensps

[at]

gmail.com
Useful services
Catering: learn about the catering services.
CROUS university restaurant
Kfé by Health Inside  : an organic & healthy coffee-shop for breakfast, lunch and snackare available to you in the building.
Health: the medical centre is at your disposal to listen and provide support and guidance.
Everything there is to know about the medical centre
Preventive medicine: Dr Yann Le Goff:

yann.legoff41

[at]

gmail.com


- Nurse: Dominique Deval - Tel.: 01 81 87 49 89
- Psychologist: Anne-Elizabeth Weber - Tel.: 01 81 87 49 89 -

rdv-psychologue

[at]

ens-paris-saclay.fr


- In the event of a Covid-19 infection:

medecine.preventive

[at]

universite-paris-saclay.fr
Social action: actionsociale.drh [at] ens-paris-saclay.fr
Office for students with disabilities: office manager Laëtitia Gentot and disability assistant Doreen Kamga can see you by appointment. Contact:

actionsociale.drh

[at]

ens-paris-saclay.fr
Information regarding international mobility
The school's policy of inbound international mobility follows the ministerial recommendations, namely the reception of all international students who so wish, including those arriving from red zone countries who should benefit from exemption to border closures as they include individuals whose functions and needs are recognised as essential by the Council of the European Union.  Under these conditions and subject to future details on the quarantine measures applicable to people from red zones, students from countries outside of Europe will be able to return to France if they already have a residence permit valid in France or if they obtain a student visa in the coming weeks.
On 1st of August, travellers coming from the 16 countries "where viral circulation is particularly high" must either demonstrate proof of a negative screening test done within the last 72 hours in the country of departure, or undergo a test upon their arrival in France.  In the event of a positive result, which will be sent to them by e-mail or telephone within 24 hours, they will have to go into self-isolation for fourteen days.
 This concerns the following countries: United States, United Arab Emirates, Bahrain, Panama, South Africa, Kuwait, Qatar, Israel, Brazil, Peru, Serbia, Algeria, Turkey, Madagascar, India, and Oman.
Any incoming mobility project (student, teacher, guest researcher) must be brought to the attention of the international relations department.
Like every year, the international relations department has communicated to international students all the practical information regarding their arrival (accommodation, registration, insurance, buddy program, etc.)
Sports
Sports are now organised at the Université Paris-Saclay level for shared sports facilities.
Register online at the start of September
Owing to the uncertainties surrounding Covid-19, several scenarios are being considered for the start of the academic year.
In the building