Testimonials: 2 students of the Artificial Intelligence Degree (ARIA) 2021-2022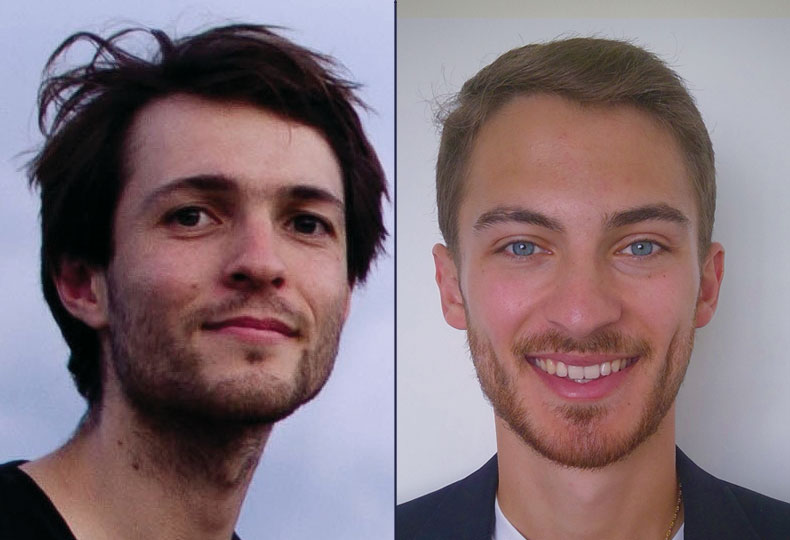 Victor Chareyron and Adrien Specht
20/04/2022
What is the link between a student of the Ecole Normale Supérieure in 'Electronics, Electrical Engineering and Automation' and a student of the Ecole Normale Supérieure in Humanities and Social Sciences at ENS Paris-Saclay? Adrien Specht, from the Nikola Tesla Department of Education and Research (DER), and Victor Chareyron, from the Humanities and Social Sciences DER, share their views on their "Year of Research in Artificial Intelligence" (ARIA) course in 2021-2022.
With an emphasis on multidisciplinarity, the School offers, in initial or continuing education, the one-year diploma "Year of Research in Artificial Intelligence" (ARIA), the objective of which is to train scientists who have mastered the tools of artificial intelligence and the associated concepts in order to apply them to their various disciplines.
Adrien SPECHT, from the Nikola Tesla Department of Education and Research (DER) and Victor CHAREYRON, from the Human and Social Sciences Department, tell us about their careers.

What is your background?
Adrien SPECHT, DER Nikola Tesla
"After a preparatory class PCSI-PSI, I chose to enter ENS Paris Saclay for the quality and diversity of its teaching. I benefited from advanced training in all areas of engineering from my first year. I then continued my training in the DER Nikola Tesla and I then noticed that current research uses artificial intelligence in information, energy, image and signal processing."
Victor Chareyron, DER of Human and Social Sciences
"I entered the ENS Paris-Saclay after two years of preparatory classes in literature and social sciences. I was, and still am, considering a career in research. At the beginning of my studies in the social sciences teaching and research department, I had the opportunity to familiarise myself with quantitative data modelling methods, and the possibilities offered by these techniques interested me a lot.
Why did you choose the ARIA course?
Adrien Specht : "In addition to studying theoretical courses, I collaborated with doctors, neuroscientists, engineers and researchers to develop a deep learning method that identifies the spectral signatures of sleep stages.
Although I sometimes had difficulties in communicating with each expert, this is also what makes the ARIA course so rich: learning from the multidisciplinary approach to do the best possible research.
Later on, I imagine myself as a neuro-engineer to unravel the mysteries of the brain, and in particular, that of sleep and dreams.
With the ARIA pathway, I was able to create a personalised pathway and have a unique experience. — Adrien Specht
Victor Chareyron : "The AI course was an opportunity to deepen, through a new approach, the opportunities opened up by access to a growing amount of data for the social sciences. It was also an opportunity to understand, in a technical way, the new challenges posed by digital technology in the social world (recommendation systems, social networks, application of Machine Learning in law, industry, etc.). Here, the approach is a bit like that of Science and Technology Studies: understanding how technological developments are linked to more or less profound social transformations.
The AI course proved to be an excellent gateway to these questions: it allowed students to confront the technical layer of data processing algorithms thanks to reinforcement modules and then courses in the Mathematics, Vision, Learning (MVA) Master's degree, while essentially taking shape in an applied manner, through internships.
This very practical approach is all the more relevant as the intersection between social science and algorithmic data processing is a largely untouched space, where much remains to be done. Unlike many other scientific fields, computational social science is still very young, and its methodological milestones are not yet very fixed; despite some remarkable breakthroughs, the research approach is still very exploratory. This is what I like most about this field: the impression of being in front of a whole new space of possibilities, which could, in the future, bring a renewal to some long-term questions of social sciences."
That's what I like most about this field: the feeling of being in front of a whole new space of possibilities, which could, in the future, bring a renewal to some of the long-term questions of social sciences. — Victor Chareyron